Photo Gallery
Soddy-Daisy flooding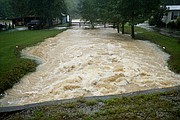 Nancy Layne and her daughter Joni Allen were working hard to sweep water away from their back door Wednesday afternoon as rain poured over Soddy-Daisy. Then Layne saw the brown water coming toward them and told her daughter to stop.
"There's nothing we can do now," she told Allen.
Delays and cancelations
-Hamilton County Schools are on a two-hour delay Friday -The Hamilton County Fair has been canceled this weekend -The swim portion of this weekend's Ironman has been canceled; it is now only 142.2 miles of cycling and running
"We just didn't know where to go, we didn't know what to do," Layne said through tears on Thursday. "It happened so quick. And I know you hear that all the time; it's just like something out of a horror movie or something you see on TV."
The women were recounting their experience to officials with Hamilton County Emergency Management Services as they surveyed the damage caused by Wednesday's deadly flash floods.
Soddy-Daisy hasn't seen flooding to this extent since 1982, authorities said.
"Emergency management is here to help you, OK?" Amy Maxwell, spokeswoman for Hamilton County EMS, told Layne as she embraced her in a hug.
"We're not going to leave you stranded. We'll get you taken care of, OK? God bless. I'm glad you're OK."
Officials have to conduct a thorough assessment of the affected area to determine the extent of the disaster, its impact on people and public facilities and the types of federal assistance that may be needed. That report will be sent to the governor to then request a disaster declaration for federal emergency relief.
Only the president can make such a declaration, and the request must show the disaster is beyond the response capabilities of state and local governments and federal assistance is necessary to save lives and protect property, public health and safety, or to lessen the threat of a disaster.
For Layne and many others affected by the floods, the damage already is too much for them to handle by themselves. She relies on an oxygen tank and, like most homeowners in the area, she doesn't have flood insurance.
Only about 2 inches of water flooded the home she bought only nine months ago, while water outside rose to about 4 feet.
Regardless, the carpet in her living room was completely waterlogged. Water was seeping into her bedroom through the wall. The roof over her back porch was sagging, and the support beams are crooked.
Layne, Allen and the rest of their family were able to get out of the home when the rain finally eased up, but they spent all of their money for a room at a hotel. They were gathering a few things on Thursday to take back.
"I don't know what's all in this water, so I can't breathe it," Layne said.
They found a fish in her backyard, and crawfish had made their way into her kitchen, she said. Her grandson was playing with them. One was still in her front yard on Thursday, lying belly-up, dead.
Farther up the street was Liz Allen's house. Like Layne's, Allen's house sits not far from Soddy Creek. Water didn't get too far into her home, but her cellar was flooded with 3 feet of water, she said.
The rushing waters swept away several items she had in her front and back yards, including some sentimental things that she can't replace.
The waters had receded on Thursday, and she was picking snails off her house.
Also damaged was the Soddy-Daisy Church of God. Water flooded one of the church buildings, and the parking lot asphalt was completely rippled.
Volunteers started gathering Thursday morning to help sweep mud and water out of the building, and an earth mover was brought in to scrape up the loose asphalt and clear the parking lot.
Personnel with Hamilton County Schools were assessing damage at area schools. Crews were working at Soddy Elementary after the school experienced some flooding inside the building, district spokesman Tim Hensley said.
A few other schools across the county experienced minor roof leaks.
Staff writer Meghan Mangrum contributed to this story.
Contact staff writer Rosana Hughes at rhughes@timesfreepress.com or 423- 757-6327 with tips or story ideas. Follow her on Twitter @HughesRosana.
Tweets by Rosana Hughes