Photo Gallery
Bryan Johnson donates $15,000 bonus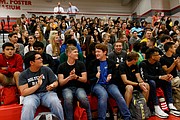 Hamilton County Schools Superintendent Bryan Johnson will donate salary bonuses he earned this year thanks to the district's "unprecedented" TNReady and TVAAS results to student scholarships in honor of his late mother.
Johnson announced the creation of the LaBrenda Johnson Memorial Scholarships at Ooltewah High School on Thursday, just a week after announcing what he called "historic student progress."
Johnson will create the fund by donating $15,000, which he will receive since the district earned a Level 5 TVAAS score, per his contract. All Hamilton County seniors will be eligible to apply for the scholarships.
"I'm appreciative of our teachers, I'm appreciative of our leaders and I'm appreciative of you and what you did last year and what our school district did," Johnson told Ooltewah High's seniors, who were gathered in the school's gymnasium for the announcement. "When we talk about student achievement what it really means is that students are becoming better prepared for the future, better prepared for post-secondary, better prepared for life after high school, and that's ultimately our goal as a school district."
Johnson's mother, LaBrenda Sonnette Johnson, died in 2017, just days before he interviewed for the superintendent position in Hamilton County. She was one of the first black students to integrate the University of South Carolina and went on to work as a social worker and serve as a caregiver for several members of Johnson's family.
The superintendent credits his mother with teaching him and his siblings the value of education and the importance of pursuing excellence.
"She taught my family - my sister, brother and I - that education is extremely important and that it's not about what you get but all about what you give," Johnson said. "She taught us the importance of education and taught us the importance of serving people."
The details of the scholarship have not been completely ironed out, Johnson told media Thursday. He hopes it will be sustainable and self-funding and that there will be one scholarship given each year for each of the district's five learning communities.
The scholarship fund will be administered through the Fund for Excellence and the recipients will be announced at the annual Superintendent's Honors Banquet, which honors the top 10% of graduating seniors.
Johnson's current annual salary is $207,134, according to the district. In his contract, which was ratified by the school board on July 11, 2017, he is eligible for several performance raises.
The potential raises include $7,500 if the district "increases its third grade TNReady success rate by ten percentage points over 2016-2016 percentages" and $15,000 when the district reaches an overall Level 5 TVAAS composite score. The bonuses are one-time allotments even if the achievements are repeated, according to the contract.
Board Chairman Joe Wingate, of District 7, said he was grateful for Johnson's leadership and vision.
"I'm grateful for the leadership of Dr. Bryan Johnson and his administration in chartering the course for success, but I'm also grateful for our teachers who take pride in what they do on a daily basis," Wingate said Thursday. "This occasion serves to acknowledge the pursuit of excellence that is taking place and to acknowledge what is to come."
In the coming weeks, board members will not only discuss Johnson's performance raises, but also his overall performance. They have been completing Johnson's annual evaluation and each is required to submit an evaluation by Friday to the board's executive secretary.
Detailed criteria and the application process for the LaBrenda Johnson Memorial Scholarship will be shared with high schools and Hamilton County seniors in the coming months, according to district officials.
Contact Meghan Mangrum at mmangrum@timesfreepress.com or 423-757-6592. Follow her on Twitter @memangrum.