CORRECTION: An earlier version of this article incorrectly referred to Dana Perry as Dan Perry.
Photo Gallery
Intergenerational help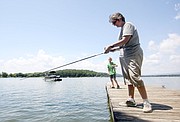 In a 1963 speech to Congress, the late President John F. Kennedy noted that America had added years to most people's lives, "and now it's time to add life to those years."
Over the past half century since then, the life expectancy of Americans has grown another two months every year. The graying of America has boosted the number of people over the age of 60 above the total number of Americans under the age of 18 for the first time in U.S. history this year, and the aging trend is projected to continue for decades to come.
With many still searching for the fountain of youth, Americans spend an estimated $45 billion a year on anti-aging medicines, lotions and research, and some Silicon Valley innovators, including billionaires Peter Thiel and Larry Ellison, have even declared war on death.
But