CORRECTION: An earlier version of this article incorrectly referred to Dana Perry as Dan Perry.
Photo Gallery
Intergenerational help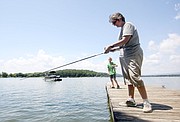 In a 1963 speech to Congress, the late President John F. Kennedy noted that America had added years to most people's lives, "and now it's time to add life to those years."
Over the past half century since then, the life expectancy of Americans has grown another two months every year. The graying of America has boosted the number of people over the age of 60 above the total number of Americans under the age of 18 for the first time in U.S. history this year, and the aging trend is projected to continue for decades to come.
With many still searching for the fountain of youth, Americans spend an estimated $45 billion a year on anti-aging medicines, lotions and research, and some Silicon Valley innovators, including billionaires Peter Thiel and Larry Ellison, have even declared war on death.
But for all the attempts and success in extending the longevity of life, some are still looking for meaning in all of those extra years.
"We 're still struggling to find the life to those years," said Marc Freedman, one of the world's leading experts on the longevity revolution who will speak in Chattanooga next month. "We have a population explosion of people moving into their 60s and 70s with 10,000 people a day turning 65 and what is emerging is a unique stage of life that has its own challenges and opportunities."
If you go
The 3rd annual Embrace Aging Forum is scheduled from 8:30 a.m. to 2:30 p.m. on Aug. 22 at the DoubleTree by Hilton Hotel downtown. General admission is $50 with a discounted rate of $30 for adults age 55 and older. Registration includes a continental breakfast and a boxed lunch. Tickets and more information are available at www.embraceagingforum.com
The demographic destiny in the United States means that one in five persons will be of retirement age in another decade and by 2035 there will be more people over 65 years old than there are children and adolescents in America.
In his new book on "How to Live Forever," Freedman said the growing population of older Americans creates an opportunity for both older and younger people to benefit by more inter-generational contacts.
"I'm very much focused on the opportunity this offers because we have all of these people who have all of the experience and the time to do something with that experience and often a sense of urgency knowing that life doesn't go on forever," he said. "How do we make it easier for people to continue to contribute in ways that are personally meaningful and [that] means something beyond themselves?"
The focus over the past half century for many retirees "has been to be like a kid again," Freedman says, with elderly people focusing on leisure, travel and fun in an era when "graying is playing" and more people are living in age-segregated senior communities than at any time in history.
But many older people also are using their senior years to work with and help younger people and, in so doing, are finding extra meaning in their retired lives, Freedman said. Even though some fear generational disputes over paying for retirement programs as fewer workers support Social Security, Freedman is more optimistic.
"The deeper emotional truth is that the needs and the assets of the different generations fit together like pieces of a jigsaw puzzle," he said. "There's probably no relationship more revered in modern life than the bond between grandparents and grandchildren."
During this July 4th holiday weekend, many are finding time for both relaxation and bonding between generations. Katrina Pursley, who retired seven years ago, is camping this weekend and visiting her nephews and nieces at Chester Frost Park on the Chickamauga Lake.
"Since we retired, we have a lot more time camping, which we enjoy doing, and with our nephew and nieces here, it's kind of becoming a holiday tradition to go camping on the lake," she said.
By the numbers
› 38 - The median age today is projected to rise to 43 by 2060.› By 2030, 1 in every 5 residents will be retirement age.› By 2035, there will be 78 million people 65 years and older compared to 76.7 million under the age of 18.› By 2060, 23.5% of the population will be over the age of 65.U.S. Bureau of Census
At another nearby camp site, Joyce Gagliano, a 50-year-old retiree from Birchwood, plays with her 7-year-old grandson, Jesse.
"I've camped all my life," she said, noting that she stays at the campground for most of the summer. "My parents took me camping and when I got older I went camping with my best friend."
Passing along such traditions and knowledge enriches both older and younger generations, Freedman said. The Economist magazine said the wave of many grandparents helping to support their grandchildren provides a "Silver-haired Safety Net" between older and younger people, giving valuable experience and lifelong lessons to younger people while building vital relationships and meaning for seniors.
But with more families spread across the country, broken up by divorce or devoid of grandchildren or grandparents, making inter-generational contacts between generations outside of the family is especially critical, Freedman said.
Freedman said all of the focus on independence, travel and play by seniors isn't always possible or healthy for many.
"I don't think that aligns with what we know about human development, happiness and well-being in this period of life," he said.
Freedman will discuss the aging of America and what steps people and communities should consider during the 3rd annual Embrace Aging conference on Aug. 22 at the DoubleTree by Hilton Hotel in downtown Chattanooga. In addition to Freedman's keynote address, the Embrace Aging Forum will include a trends panel with industry professionals in public policy, housing and development, technology, and philanthropy.
Dana Perry, head of the elder and special needs team at the Chambliss law firm, said the firm organizes the Embrace Aging conference to connect boomers, older adults, and their caregivers to community resources and health care, wellness, financial, legal, and service providers in Chattanooga.
"Our community is stronger when we are all working together to help aging adults lead their best lives possible, and the Embrace Aging Forum connects generations and ignites important conversations on aging," Perry said.
Amy B. Boulware, a social worker and care manager at Chambliss who has worked with elder care for nearly three decades, said the all-day conference brings together a wide range of service providers in aging - from trust and financial service providers to living facilities and innovative tech companies. A new component to this year's event will be the Caregiver's Corner, offering on-site benefits and resources for caregivers, and an inter-generational technology program at Chattanooga State.
"Chattanooga is really primed to be a very active retirement community," Boulware said, citing the favorable climate and scenery, cost of living, health care services, and education opportunities.
Chattanooga has been rated among the best cities to retire in by publications ranging from the financial newsletter Kiplinger, which highlighted the relatively low cost of living and taxes in Tennessee, to Southern Living magazine, which praised the amenities in the Scenic City.
Cleveland, Tennessee, is also home to America's biggest privately held nursing home chain, Life Care Centers of America, and the region is home to at least a half dozen other senior living development companies.
"We have all of the pieces here to be successful, but some of the models perhaps need to be shaken up a bit," Boulware said. "We want to be at the forefront of those discussions."
Contact Dave Flessner at dflessner@timesfreepress.com or 423-757-6340.