Photo Gallery
Stacey Abrams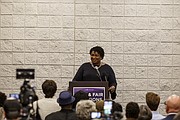 DALTON, Ga. - While she continues to weigh campaigns for the U.S. Senate and the White House, Stacey Abrams said Sunday afternoon she is motivated for another run at the governor's mansion after Republicans passed a controversial abortion bill last week.
"It is dangerous," she said after a rally at the Dalton Convention Center. "I think it is scientifically insupportable. I know it will cause harm to women, especially to those women who face the highest rate of maternal mortality already. We know that we will lose doctors. We will lose jobs. And I believe it is purely a craven exercise designed to fulfill a political promise."
The bill, which the House passed Friday afternoon, will ban abortions in Georgia when a doctor detects a heartbeat in the fetus, which usually occurs at six weeks. The legislation includes exceptions in cases of rape, incest or when the pregnancy threatens a woman's life. Because many women don't know they are pregnant until at least six weeks, Democrats say the bill essentially bans abortions.
Republican Gov. Brian Kemp, who defeated Abrams in November, is poised to sign it. During his campaign, he promised to pass the "toughest abortion laws in the country."
After Friday's vote, he said in a news release, "The legislature's bold action reaffirms our priorities and who we are as a state."
The vote capped a contentious week in the legislature, in which advocates flooded the state Capitol to loudly campaign both in support and opposition to the bill. As the legislation passed on the floor Friday, some Democrats chanted "shame," according to Georgia Public Broadcasting. Protesters dressed as the female protagonists from Margaret Atwood's "The Handmaid's Tale."
After the vote, Capitol police officers argued with female Democratic lawmakers, telling them they were too loud as they talked to reporters.
On Sunday, Abrams blamed Kemp for the atmosphere. When she was House minority leader, she said she worked well with former Republican Gov. Nathan Deal, and members of both parties were more cordial. She said Republican leadership did not allow dissenting voices enough time to protest the legislation, and they didn't make enough compromises, opening the floodgates.
"The current governor does not seem to have any interest in creating an atmosphere that acknowledges that half of the state has a different set of values," she said. "We all want to be successful. I think any leader has to understand, has to bring folks together. And unfortunately, under his tenure, I have not seen an attempt to do so."
In response, Kemp's press secretary said in a statement: "Governor Kemp is focused on doing the job a record number of Georgians elected him to do: putting hardworking Georgians ahead of politics. That includes raising teacher pay by a historic $3,000, expanding access to quality health care, prioritizing public safety by going after street gangs, spurring job creation and investment, fully funding public education, and valuing the life of every single Georgian."
After losing the election by 55,000 votes - about 150,000 votes closer than the Democratic candidate in 2014 - Abrams declined to concede the race, arguing the results were questionable. This had been a criticism she voiced for months before the election, arguing that Kemp should have stepped down as secretary of state during the campaign. She compared it to an athlete serving as a referee in his own competition, an allegation Kemp continually said was unfair.
Fair Fight Action, a voting rights nonprofit founded by Abrams, sued the secretary of state's office and the state election board in U.S. District Court on Nov. 27, arguing that a number of state policies disproportionately keep minorities from voting. Its list of grievances include voter purges, registrations put on hold, troubles at polling sites and problems with voters' absentee and provisional ballots.
The lawsuit calls for a number of reforms, including that the state stop purging infrequent voters from the rolls. It also asks for Georgia to be put under preclearance requirements again, forcing state officials to get approval from the U.S. Department of Justice before making changes to voting rules. Because the federal government found that some southern states created unconstitutional barriers for minorities to get to the polls, Georgia had required preclearance before making election changes from 1965-2013, when the U.S. Supreme Court ruled against the requirement.
Sunday's stop in Dalton was part of Abrams' "Thank You Tour," in which she has traveled the state, asking campaign workers to sign up as volunteers for Fair Fight Action.
As has been the case almost everywhere Abrams stops, some in the crowd asked what she will run for next. She has been linked to a 2020 U.S. Senate race against Republican David Perdue. Senate Minority Leader Chuck Schumer, D-N.Y., has lobbied Abrams hard for the seat and appointed her to offer the rebuttal to President Donald Trump's State of the Union speech, a position that gave Abrams a national audience.
At the same time, Abrams has also not ruled out a run for the presidency. She has traveled the country speaking at high-profile events, including Austin's South By Southwest festival. And The New York Times ran an op-ed in February titled, "The Stacey Abrams Revolution."
But for all the attention, Abrams has maintained that her goal since she was a child was to occupy the governor's mansion that Kemp now calls home. She said legislation like the abortion bill could lead her to challenge Kemp in 2022.
"It tells doctors you could go to jail for doing your job. And it tells women you could be criminalized for taking care of yourself and your family. HB 481 is evil. And it exists because it was a campaign promise. It exists because it was a political stunt. And it exists because votes were not counted in 2018."
Emboldened by Trump's appointment of Brett Kavanaugh to the Supreme Court, conservative Legislatures across the country have passed restrictive abortion laws this year. Some hope their bills will be the ones to lead to a Roe vs. Wade overturn. (The Tennessee House has also passed a heartbeat bill, though the Senate has not taken it up.)
Earlier this year, Abrams said she would decide her next step by late March or early April. That deadline has come, but she is still undecided. During an interview after Sunday's event, she said she is still researching what position fits best for her.
She added that her decision has been delayed by the paperback release of her book, "Lead from the Outside." Abrams said she did not do a good job of touring and promoting the work when it originally came out in April 2018.
Asked whether her delay is keeping other Democrats out of a potential race against Perdue, she said, "Part of my responsibility as a leader is to make certain that I make decisions in a timely fashion that will allow others to make their decisions. But I've said to every single candidate that has expressed interest in running that they should do what they need to do. If they want to run, then they should step up. I appreciate the deference that some have shown, but that is certainly not something I expect, and it's not something I have asked for."
Contact staff writer Tyler Jett at 423-757-6476 or tjett@timesfreepress.com. Follow him on Twitter @LetsJett.