Photo Gallery
New Erlanger CEO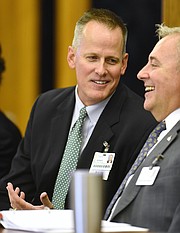 Dr. Will Jackson, Erlanger Health System's new chief executive officer, will earn $625,000 base salary for his first year and potentially another $50,000 if he meets three key goals: address physician relations, reorganize the hospital's management structure and reorganize the governance structure of Erlanger Medical Group.
"We wanted to reward the knowledge he brings but also allow him to grow and develop," Trustee Linda Moss Mines, chairwoman of the management and board evaluation committee, said after the one-year contract was approved at the board's regularly scheduled meeting Thursday.
"I think we reached a wonderful compromise," Mines said, adding that the move reflects the board's focus on lowering costs. Erlanger has to decrease its overhead in order to improve the health system's competitiveness on the bond market and allocate more money to patient care, she said.
In