Photo Gallery
New Erlanger CEO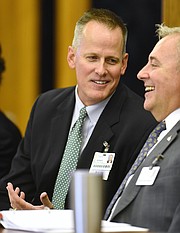 Dr. Will Jackson, Erlanger Health System's new chief executive officer, will earn $625,000 base salary for his first year and potentially another $50,000 if he meets three key goals: address physician relations, reorganize the hospital's management structure and reorganize the governance structure of Erlanger Medical Group.
"We wanted to reward the knowledge he brings but also allow him to grow and develop," Trustee Linda Moss Mines, chairwoman of the management and board evaluation committee, said after the one-year contract was approved at the board's regularly scheduled meeting Thursday.
"I think we reached a wonderful compromise," Mines said, adding that the move reflects the board's focus on lowering costs. Erlanger has to decrease its overhead in order to improve the health system's competitiveness on the bond market and allocate more money to patient care, she said.
In order to receive his $50,000 individual performance incentive, Jackson must present "acceptable" plans to address physician relations and the governance of Erlanger Medical Group by March 31, 2020. He also must reorganize Erlanger's management structure by Dec. 31, 2019.
When former CEO Kevin Spiegel took the helm in 2013, Erlanger had fewer than 100 employees who were considered management. Now, the health system employs about 280 managers, according to Mines.
"The reality is, we have to demonstrate that we're willing to be a lean machine that has creative and innovative ways of addressing issues - not just throwing personnel at those issues," she said. "Especially when we're providing somewhere around $135 million in uncompensated care We have to always keep our eyes on why we're here, and that's patient care and quality and those patients who have access to health care nowhere other than here."
Spiegel began at Erlanger in 2013 making $680,000 per year base salary with a $50,000 sign-on bonus, according to a copy of his contract. By the time of his departure, he earned a $964,000 a year base salary. He also had an opportunity to earn up to 50% of his base salary in bonuses through a self-funded incentive plan that required the hospital meet certain financial, quality, safety and service goals.
Jackson's contract includes the same self-funded incentive plan as Spiegel's, but Mines said she doesn't anticipate the plan will be funded this year.
His severance is equivalent to one year's salary and will be paid if Erlanger doesn't renew Jackson's contract after one year. Jackson will not receive his severance only if he decides to leave the health system on his own.
"That was a difficult one for us, but the reality is under his current contract as chief medical officer and vice president, he had 18 months of severance," Mines said. "He does have a family. We want to drive a good deal that's a positive contract for Erlanger, but we also want to create a work environment in which our CEO will thrive. I anticipate - and I've said this to everyone - the severance will never be an issue. I believe that Will Jackson has what we need as our CEO."
In his first CEO's report, Jackson commended Erlanger employees on their response to the recent water main break and reminded trustees to get their flu shots, since the season is right around the corner.
"I just want to thank the board for this opportunity. It's a privilege, responsibility. I don't take it lightly," Jackson said.
He also thanked the board for its hard work and ended by acknowledging the contributions of Erlanger's Chief Administrative Officer Gregg Gentry, who was also considered for the CEO position.
"Gregg Gentry is a friend of mine. He's been a trusted colleague. He has a skillset and brings it to Erlanger in a way that I can't possibly do it. He's been a servant leader here for 30 years. He has my highest esteem, and I'm confident we're going to continue to work together well," Jackson said. "I want that noted for the record - that Gregg is in my highest confidence."
Contact Elizabeth Fite at efite@timesfreepress.com or 423-757-6673.