At least six protesters have been arrested as largely peaceful protests in Chattanooga sporadically turned violent at nightfall.
Hundreds of Chattanoogans have protested police violence across the city since as early as noon on Saturday and are still going well into the night.
They are responding to the caught-on-video killing of George Floyd, an African American man in Minneapolis who died as a police officer knelt on his neck for minutes on end as Floyd pleaded that he couldn't breathe.
The Chattanooga protests have consisted mostly of peaceful marches around the city, such as when hundreds of activists took to the middle of the street on Frazier Avenue. Shortly after dark, dozens of Chattanooga police and other law enforcement agencies formed a police line for crowd control.
The protesters were then allowed to span across the intersection of Frazier and Tremont Street, where one mild physical altercation broke out.
The protests continued for roughly an hour before police pushed protesters down Tremont into Coolidge Park. Many protesters resisted, resulting in more physical altercations between police and citizens.
Two were thrown to the ground and arrested by police, and four more arrests came as the night wore on.
Protesters began throwing trash cans and toppling dumpsters and one firecracker was thrown across the police line.
Photo Gallery
Hundreds protest for George Floyd in Chattanooga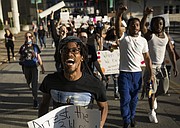 After the Coolidge Park incident, the remaining 150 or more protesters made off down the Market Street bridge and began marching in the roadway throughout the downtown area.
As they made their way toward the downtown jail, some threw barricades that had been set up for construction into the street, briefly blocking police from following.
Police then surrounded the jail and courthouses in an effort to protect the buildings, but not before protestors spray painted the statue of Confederate Lt. General Alexander P. Stewart and broke a water fountain on the lawn of the Hamilton County Courthouse.
In 2017, the Chattanooga chapter of the NAACP tried unsuccessfully to have the statue removed from the courthouse.
Some downtown business windows were broken and some at least three ceramic tiles that were found in a parking lot were thrown into the air and shattered near other protestors.
For at least an hour, demonstrators walked through streets, alleyways and parking lots as police followed and blocked traffic before finally blocking off the Market Street Bridge at around midnight where the protesters remained gathered well into the night.