Volkswagen unveiled an electric SUV Wednesday that it calls "the most important launch for VW since the Beetle," and the head of its U.S. arm recalled test driving the ID.4 up Signal Mountain.
"Last week I blasted up Signal Mountain. The driving dynamics of the car are astounding," said Scott Keogh, CEO of Volkswagen Group of America, about the new battery-powered SUV that will be stamped "Made in Chattanooga, Tennessee" by 2022.
The compact SUV, assembled initially in Germany until an $800 million Chattanooga plant expansion is ready, is targeting buyers of Honda CRVs, Toyota RAV4s, and similar vehicles, according to VW.
"It's a compact SUV, and there's not an electric vehicle landing in that space," Keogh said. "We like that dealers will have what no one else has."
Pricing for the ID.4 starts at $39,995 for the rear-wheel-drive ID.4 Pro before a potential federal tax credit of up to $7,500, the company said during a worldwide launch of the SUV on YouTube.
After production starts in Chattanooga, the plant also will build a second version with a manufacturer's suggested retail price of about $35,000 that has a smaller battery pack, according to VW.
Keogh said the company intends to keep its earlier plan to hire 1,000 more workers in Chattanooga despite the economic disruption caused by the coronavirus.
"That's a solid number. That plant has never been running harder than right now," he said.
The estimated range of the electric ID.4, which VW said stands for "intelligent design, identity and visionary technologies," is 250 miles.
Dustin Krause, Volkswagen of America's director of e-mobility in North America, said officials knew it had to create a vehicle better in every way than the SUVs against which it's competing.
"The gas car now gives you a ton a freedom," he said. "That's been an issue with EVs. We wanted to solve that."
He said the ID.4 can charge up to 80% of capacity in just 38 minutes.
Photo Gallery
mocktails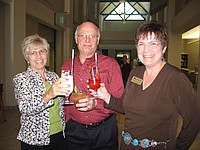 Keogh said that 250 miles of range with a full charge is "more than enough than what's needed" to meet the competition from other compact SUVs.
"This car is faster, handles better, has a tighter turning radius," he said. "It will be quite shocking."
Krause said the ID.4 has a lot of acceleration for an SUV. He said the vehicle will go from 0 to 60 mph in about eight seconds.
Also, the ID.4 comes with three years of fast charging at Electrify America's nationwide stable of stations at no additional cost to help reduce range anxiety of motorists, according to VW.
With possible state incentives and fuel savings, VW said the cost of a new ID.4 could go as low as $27,000.
"We know if we get the price point right, we'll get adoption," Keogh said.
According to Volkswagen, the SUV's modern design is paired with high-tech features such as advanced driver assistance technology and a smart infotainment system using both voice and touch.
"The ID.4 was engineered, loaded and priced to win the hearts of SUV owners who are simply ready to go electric - and fall in love with Volkswagen again," said Keogh. "It drives like a GTI, it has the packaging of a Tiguan and the purpose of the Beetle - all the best things about VW in one package."
VW said the ID.4 will have a four-year, 50,000-mile warranty. The batteries will have an eight-year, 100,000-mile warranty. The vehicle also will have two years of free scheduled maintenance.
Reservations for the ID.4 started online Wednesday, though the vehicle will hit dealerships in early 2021.
U.S. soccer star Alex Morgan said in the launch's YouTube presentation that while she drives a VW Atlas Cross Sport, she got a sneak peek at the environmentally friendly ID.4 and termed it "pretty sweet."
"I'm a mom now. I'm looking at my daughter's future. I already live pretty green. Going electric is a no-brainer," she said.
American race car driver Tanner Foust said during the video that the torque in the ID.4 is instantaneous.
"I really think this will rewrite what an SUV is about," he said.
Keogh, asked about competing against electric automaker Tesla, said there's "a lot of drama about a death match."
"Tesla and VW want exactly the same thing," he said. "We want to drive adoption [of EVs] by the mainstream market. That's where the daylight is."
About 3,800 people now work for VW in Chattanooga, where the Atlas and Atlas Cross Sport SUVs and Passat sedan are assembled. VW is hiring about 150 more workers directly this year, and jobs contractor Aerotek is adding 175 employees at the plant.
The automaker is increasing its footprint by more than 750,000 square feet at its Chattanooga facilities. The expansion includes a 564,000-square-foot addition to the body shop.
Also, the company is building a 198,000-square-foot facility adjacent to its factory for the assembly of battery packs for battery-powered vehicles.
Volkswagen is sourcing the batteries from SK Innovation, a South Korean company that is building a factory in Northeast Georgia. At VW Chattanooga, the automaker will put together the battery packs that will be installed beneath the electric SUV.
When production of the SUV begins, officials said the Chattanooga plant will have capacity to assemble more than 100,000 EVs annually.
Contact Mike Pare at mpare@timesfreepress.com. Follow him on Twitter @MikePareTFP.