Three Chattanooga-area business leaders are among a dozen billionaires in Tennessee on Forbes magazine's new list of the wealthiest people on the planet.
The richest residents in Southeast Tennessee have each built up businesses in key industries for the regional economy — carpets, soft drink bottling and senior housing. But Forbes estimates two of the three local billionaires are worth only about half as much as they were in the past.
Among the 2,640 billionaires around the world identified by Forbes, the 90-year-old founder of Life Care Centers of America in Cleveland, Tennessee, is the wealthiest in the Chattanooga area with an estimated net worth of $1.2 billion. Forbes said Forrest Preston's wealth has dropped from his peak estimated net worth of $2 billion in 2015 after the company agreed in 2016 to pay $145 million to settle a government lawsuit alleging the firm had over-billed federal healthcare programs.
Preston remains the sole owner and CEO of the nation's biggest privately owned nursing home and assisted living business he founded in 1970. He has acquired major office buildings in Chattanooga, including the Tallan and Krystal buildings.
Jeffrey Lorberbaum, the 68-year-old who lives in North Chattanooga and has helped grow the Calhoun, Georgia-based Mohawk Industries into the biggest floor covering manufacturer in the world with nearly $12 billion in annual sales, is estimated to be worth $1.1 billion by Forbes.
Lorberbaum's wealth swelled to $2.5 billion in 2018, primarily due to his nearly 15% stake in the company his father founded as Aladdin Mills in 1957. But the company's stock has since declined due to global slowdown, pricing pressures in the floor covering industry, and complaints that the company improperly inflated sales and profits. Summerfield Johnston Jr., the 90-year-old retired Coca-Cola executive whose family owns one of the biggest Coke bottling businesses, rounds out the local billionaires' club with an estimated worth of $1 billion.
Johnston's grandfather got the first Coca-Cola bottling license back in 1899, and the world's largest beverage company is still making the Johnstons rich today after the third generation Coke bottler turned the business into the largest independent Coke bottler in the world.
By 1991, when Coke's own bottler Coca-Cola Enterprises was struggling and looking for new leadership, the company bought Johnston's Chattanooga-based bottling business and named him as its CEO. He stepped down as CEO in 2001 and retired his chairmanship in 2007, but he still holds a 7% stake in Coca-Cola Enterprises.
Johnston fell off the Forbes billionaires list in 2017 after previously being on the list for a couple of years. But he returned to the Forbes list in the new 2023 ranking.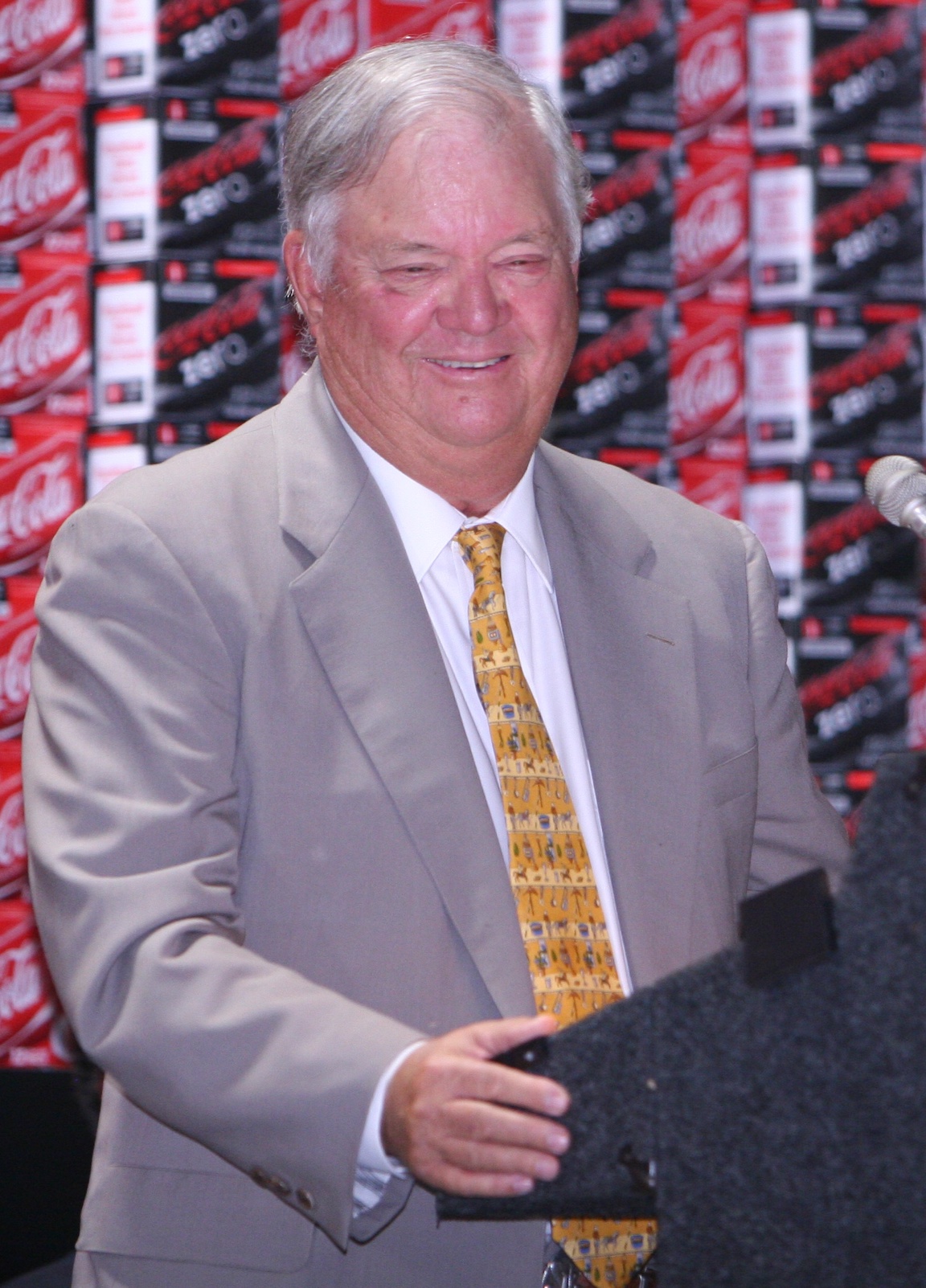 Staff file photo / Summerfield Johnston speaks at the 100 year celebration of the Coca-Cola plant in Cleveland, Tenn., in 2007.

Tennessee's political wealth
Across all of Tennessee, Forbes counts 12 billionaires, led by the founding family of the world's biggest hospital chain, HCA Healthcare. The financial magazine estimates Thomas Frist Jr., who founded Hospital Corporation of America in 1968 with his father, is worth $20.2 billion, down slightly from his estimated wealth of $21.8 billion the previous year.
HCA owns and operates 187 hospitals, including Parkridge Health System in Chattanooga.
Frist's brother, heart surgeon Bill Frist, served as a U.S. Senator for Tennessee from 1995 to 2007, including four years as the Senate Majority Leader.
Another Tennessee political family on the Forbes list is the Haslams in Knoxville, who started the Pilot Flying J chain of truck stops in 1958 and built the business into more than 800 locations across North America. Bill Haslam, who served as mayor of Knoxville from 2003 to 2010 and was Tennessee governor from 2010 to 2018, is worth $2.5 billion. His older brother Jimmy, who also owns majority control of the Cleveland Browns, is worth $4.8 billion, according to Forbes.
Georgia has 16 billionaires, all living in either Atlanta or Hampton, Georgia, according to Forbes. Gary Rollins, who made a fortune in pest control and contributed $25 million to the University of Tennessee at Chattanooga, is worth $5.5 billion, ranking as the 358th wealthiest person in the world.
Fewer billionaires
Despite a jump in inflation last year, Forbes said the total number of billionaires in the world fell for the second consecutive year in 2022 to 2,668, or 28 fewer than the previous year. Forbes reported nearly half of the world's richest people are poorer than they were a year ago.
Those falling off the Forbes list include crypto wunderkind-turned-fraud defendant Sam Bankman Fried, his co-founder and possible courtroom opponent Gary Wang, and musician Kanye West, among others.
One person dropped out of the billionaires club by choice. Yvon Chouinard, the founder of the outdoor clothing and gear maker Patagonia in 1973, donated the company to a trust and a nonprofit fighting environmental crises in September 2022.
"No one had a better year than Bernard Arnault, who is No. 1 on the World's Billionaires list for the first time," Forbes reporter Chase Peterson-Withorn reported in the magazine. "Record sales and profits have driven shares of his luxury goods leviathan LVMH, which owns brands such Louis Vuitton, Christian Dior and Tiffany, to new heights."
Arnault is worth an estimated $211 billion, up $53 billion from a year earlier.
The United States continues to have the most billionaires with 735 American citizens on the Forbes ranking, worth a total of $4.5 trillion. China (including Hong Kong and Macau) was second with 562 billionaires, followed by India (169), Germany (126) and Russia (105).
Contact Dave Flessner at dflessner@timesfreepress.com or 423-757-6340.
Richest in Tennessee
1. Thomas Frist Jr. and family of Nashville, HCA Healthcare founding family, net worth of $20.7 billion (78th weathies in the world).
2. Fred Smith of Memphis, founder of FedEx, net worth of $4.9 billion (547th wealthiest in the world).
3. Jimmy Haslam of Knoxville, Pilot Oil Co., net worth of $4.8 billion (556th wealthiest in the world).
4. Martha Ingram and family, book distribution and transportation, net worth of $3.8 billion net worth (723rd wealthiest in the world).
5. Jon Yarbrough of Franklin, video games, net worth of $3.2 billion (900th wealthiest in the world).
6. Brad Kelley of Franklin, tobacco, net worth of $2.5 billion (1,163rd wealthiest in the world).
7. Bill Haslam of Knoxville, former Tennessee governor and son of Pilot truck stop chain founder, net worth of $2.5 billion (1,195th wealthiest in the world).
8. Willis Johnson in Franklin, founder of Copart online auction business, net worth of $2.2 billion net worth (1,368th wealthiest in the world).
9. Forrest Preston in Cleveland, owner of Life Care Centers, net worth of $1.2 billion (2,230th wealthiest in the world).
10. Jeffrey Lorberbaum in Chattanooga, net worth of $1.1 billion from Mohawk Industries, (2,308th wealthiest in the world).
11. Dean Solon in Gallatin, net worth of $1.1 billion from solar systems (2,354th wealthiest in the world).
12. Summerfield Johnston Jr. in Chattanooga, net worth of $1 billion from Coca-Cola bottling and other ventures (2,428th wealthiest in the world).
Source: Forbes, 2023 list of billionaires