In the middle of Gig City, next to one of Chattanooga's biggest employers, more than one-third of households lack broadband access and more than one-fourth of families live in poverty, according to census data.
Health surveys also indicate the share of residents with asthma and other health ailments in Orchard Knob is higher than in other communities.
On Saturday, a coalition of neighborhood, nonprofit and business groups came together at a community fair to promote a new effort to improve the health, energy efficiency and broadband connections in Orchard Knob.
"The pandemic set us back some, but this community has really come together, and we're excited about what's being offered and how we can make things better, especially for so many of our senior citizens in this community," Linda Carter, a life-long resident of Orchard Knob and president of the Orchard Knob Neighborhood Association, said during Saturday's community picnic and gathering.
Carter was among a couple of dozen participants who just completed one of three "Tech Goes Home" programs the Enterprise Center has offered in Orchard Knob to help residents learn more about how to use their computer and internet connections.
Paul Eberhardt, a retired resident in Orchard Knob who also recently completed the free computer training, said he learned how to make better online purchases and use his email for community services and connections during the Tech Goes Home course.
Eberhardt was also an early recipient of another program in the Orchard Knob Collaborative — an energy upgrade of his home by Habitat for Humanity. Eberhardt said the home he purchased through a Chattanooga Neighborhood Enterprise program 16 years ago was in need of more insulation and other energy upgrades, which Habitat made, helping reduce his electricity usage.
"The improvements helped me save $10 or $15 a month on my utility bills," Eberhardt said in an interview during the Saturday fair. "The house stays a lot warmer now in the winter and cooler in the summer, and that's helped my overall health."
Habitat plans to offer such home energy upgrades to at least two dozen other households in Orchard Knob as a part of the new collaborative initiative.
The Enterprise Center, an economic development agency which is offering Tech Goes Home courses in the neighborhood, successfully organized the Orchard Knob Collaborative of a dozen local groups to win a grant last year of $609,000 from the Tennessee Valley Authority, along with $262,000 of matching funds from other participants, as part of TVA's initial $3 million Connected Communities program.
The Orchard Knob Collaborative is sponsored by the Orchard Knob Neighborhood Association, Parkridge Health System, TVA, Habitat for Humanity, Green Spaces, EPB, the Enterprise Center, the Glass House Collaborative, the city of Chattanooga and the Chattanooga Design Center, among others. The coalition grew out of an effort pushed by former Parkridge CEO Tom Ozburn three years ago to help the community where HCA's biggest Chattanooga hospital is located and where many health and income standards in the community are below average.
Photo Gallery
Orchard Knob fair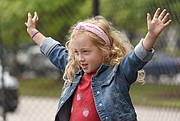 Chattanooga City Councilwoman Marvene Noel, of Orchard Knob, recalls meeting with Ozburn when she was still president of the Orchard Knob Neighborhood Association and urging Parkridge and others to do more to help the community where they are located.
(READ MORE: Orchard Knob Elementary's donated washer and dryer help fight chronic absenteeism)
"He was like a knight in shining armor, and he made sure we did more than just talk about these problems," Noel said Saturday. "We started bringing all of these different community groups and businesses together, and Parkridge agreed to contribute to this effort in their backyard."
Parkridge is helping offer telehealth assistance and connections for up to 1,000 Orchard Knob residents to help in the assessment and detection of health issues and concerns, Noel said. Parkridge and other sponsors of Saturday's community fair also offered free meals to local residents to help introduce residents to the programs being offered by the collaborative.
Katherlyn Geter, the program manager for the collaborative who works at the Enterprise Center, said a community garden is also being pushed in the area which is considered a "food desert" because of the lack of local grocery stores with fresh fruit and vegetables.
"We're also working with the Health Department to bring more educational programs and efforts to deal with diabetes and other health problems in the community," she said. "This is a real community effort to try to deal with a number of challenges in Orchard Knob."
Orchard Knob was one of nine community recipients across TVA's seven-state service territory to develop partnerships designed to make communities healthy, safe and economically viable.
TVA allocated $3 million for the first round of targeted communities selected for the TVA Connected Communities program. Georgia Caruthers, the initiative lead for TVA's Connected Communities, said the utility is accepting community applications until June 30 for a second $2 million round of funding this year.
"Connected Communities is all about helping local leaders create plans through local teams in four broad areas — broadband and digital literacy, energy and environmental justice, economic empowerment and community resiliency," she said in an interview Saturday. "This project (in Orchard Knob) gets to many of these key objectives, and it's exciting to see how it is already working."
Contact Dave Flessner at dflessner@timesfreepress.com or 423-757-6340.