Photographs of smiling family members are hung edge-to-edge in the Eyrich home, filling the entire wall above a couch in their Hixson home.
The painstaking display can't cover up the missing piece in the family since Stephanie Dawn Jackson died after taking a fake Xanax on March 13, 2022, at the age of 40, according to her mother, Wendy Eyrich.
As Eyrich speaks about the death of her daughter, Jackson's 9-year-old daughter, Langston Eyrich, cuddles and plays with a stuffed giraffe named Millie Daisy on another couch near the wall of family photographs. Langston tells her grandmother that Millie Daisy is available for hugs if she needs one as her grandmother describes the family's struggle with the death of Jackson.
During an interview with the Chattanooga Times Free Press, the mother of nine described the life, addiction and death of her daughter — and the advocacy work Eyrich has done to keep other families from having to experience a similar tragedy due to illicit drugs.
DRUG DEATHS
Nearly 107,000 Americans were lost to drug overdoses in 2021, according to the U.S. Centers for Disease Control and Prevention. Most who die of drugs leave behind a family and friends who struggle to make sense of a tragedy similar to the death of Jackson.
"These kids getting this fentanyl, it's not an overdose, it's actually them being poisoned," Eyrich said. "Because if she'd known that was in there and she wasn't going to wake back up, she'd've never have taken that. There's no way."
Eyrich said Jackson took what she thought was a Xanax, but the pill contained fentanyl, xylazine and another kind of fentanyl called fluorofentanyl, according to the autopsy report from Richmond County, Georgia. Jackson was living in Augusta, Georgia, when she died, Eyrich said, but had also lived in Dalton, Georgia, and Chattanooga.
In Hamilton County, 226 people were killed by drugs last year, up from 176 in 2021, according to the Hamilton County Health Department's Drug Overdose Surveillance Report, presented in early April.
In Georgia, the number of opioid-related overdose deaths increased from 853 to 1,718 from 2019 to 2021, according to the state's Department of Public Health. In Whitfield County, there were 15 opioid-involved overdose deaths in 2021 and 10 in 2020, according to statistics from the state Department of Public Health.
In an email, Whitfield County Sheriff Scott Chitwood briefly described how fentanyl has affected the county.
"We are very much aware of the seriousness and danger of fentanyl," Chitwood said. "Sadly, we have seen it surface several times through the course of recent investigations."
A FAMILY'S LOSS
Along with Langston Eyrich, Wendy Eyrich takes care of her 17-year-old daughter with special needs. Her 20-year-old daughter, who is in college, also lives with them.
Eyrich has seven daughters, two sons and seven granddaughters, she said. Jackson was her second born and first daughter. Jackson had five girls, including four who are now adults, Eyrich said.
Eyrich said the family is still struggling with the death of Jackson.
The family makes a point to tell Langston stories about her mother and make photographs of her available, Eyrich said. A teddy bear made out of pieces of Jackson's clothes was also given to Langston, Wendy Eyrich said.
Langston has told her grandmother she wanted to know what her mother's hug felt like and wasn't sure she remembered because she was so young. Before Jackson died, Eyrich said she was hoping for a family photograph and plans to find someone to digitally add Jackson into a family photograph sometime.
Though she knew Jackson had addiction issues, Eyrich said she never thought it would end in her death.
"But here we are," she said. "I just have to take care of these babies, her siblings, and just go from there. And, hopefully, save a life somewhere in between."
Langston was sent to her room when her grandmother began talking about the day of Jackson's death.
Photo Gallery
Opioid poisoning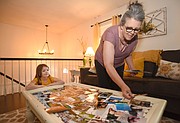 JACKSON'S ADDICTION
When Jackson moved back to Tennessee from Nebraska over 11 years ago, Eyrich said she didn't have addiction issues. The majority of the time after she returned to the area, Jackson lived in Dalton, Eyrich said.
Jackson was a bright woman who was taking online classes with the goal of becoming an attorney when she moved back, Eyrich said.
But after Jackson went out with friends one night in Chattanooga, Eyrich said her husband's phone rang at about 1:45 a.m. Jackson had been found in a ditch after being beaten and raped, she said.
"From there, she never came back from that," Eyrich said. "That's where addiction came into her life."
Eyrich said the family tried to get her help, but Jackson wouldn't cooperate — and her mother said Jackson couldn't face anyone and stayed away. Her family filed a missing persons report with law enforcement and hired private investigators, but Eyrich said Jackson couldn't be found.
After a few years, Jackson came back around but didn't quit using drugs or stay in rehab. Recalling a journal entry from that trying time, Eyrich said she was grieving a child who was alive, and that couldn't be any worse than grieving a child who was dead.
"Me knowing my daughter when she wasn't an addict to knowing my daughter who was, she was completely a different person. I'm telling you, across the board, they were not the same person," she said.
Jackson was arrested and convicted on a drug charge, Eyrich said, but after serving two years at a facility in Augusta, her co-defendant admitted responsibility for the incident. During her time incarcerated, Jackson was able to overcome her addiction and rebuild the relationship with Langston and her grown daughters through phone and video calls, Eyrich said.
COTTAGE IN AUGUSTA
After being released, Jackson got a job and rented a cottage in Augusta near where she served her prison time, Eyrich said, so her husband and Jackson's father, Dave Eyrich, planned a trip to see his daughter with a trailer full of items for Jackson's home. Other family members were coming later that weekend, she said.
When Dave Eyrich arrived, Jackson was texted to come outside the cottage where she lived. There was no response, Wendy Eyrich said.
"I got really nervous, I'm gonna tell you: I have PTSD so bad from having a child that's an addict," Wendy Eyrich said. "It's unbelievable, because immediately you panic."
Dave Eyrich told his wife by phone that he had to go, but she pleaded with him to stay on the line. First, Dave Eyrich told his wife that the situation wasn't good, and soon after, he said he thought Jackson was dead.
After the call ended, Wendy Eyrich said all she can remember is running up and down her residential street, shaking too badly to open her phone and call anyone. Amid her grief that day, Wendy Eyrich said she didn't know what she was going to tell the children and knew she couldn't hide how she was feeling.
Eyrich said she was finally able to call her pastor and members of her church, who called other friends, and soon support arrived.
When Dave Eyrich was able to enter Jackson's cottage, Wendy Eyrich said that there was a man standing beside her. Wendy Eyrich said the man told them he had driven down from Dalton, Georgia, that morning with what Jackson thought was Xanax.
Dave Eyrich told Wendy Eyrich the man from Dalton didn't do CPR on Jackson, nor did he call 911 for help. Dave Eyrich called the paramedics, Wendy Eyrich said, but they were unable to revive her.
After years of not seeing her in person, Wendy Eyrich said she had to identify Jackson's body at the funeral home. Even though she was deceased, there was a still a comfort there, because Eyrich said she finally knew where her daughter was after not knowing for so long.
Before the funeral, Wendy Eyrich said someone asked her if she wanted to keep Jackson's friends away from the funeral — friends who the family suspected shared her use of drugs. Eyrich said she told them no, those friends needed to attend the funeral and see firsthand what drugs can do.
Eyrich said she's still in touch with several of those friends.
FROM GRIEF TO ACTIVISM
After about four months of doing little else but caring for the children in her home, Eyrich said she woke up feeling different — like she was back to reality again. Before then, she said she was isolating herself and felt like she was disconnected from her life. After that, she said she got active.
"The awareness campaign, I started when Stephanie first passed away," Eyrich said. "I knew nothing about fentanyl. You hear about meth, you hear about cocaine, all that stuff. But I had no clue what fentanyl was."
Eyrich began researching illicit fentanyl and came across several groups like Lost Voices of Fentanyl, an organization founded by April Babcock, a resident of Maryland. Eyrich said she joined that group and several others.
Jackson can't be brought back. Eyrich said she knows that. But she said she didn't know what to do until she started getting ideas from members of those different groups. After about four months of nearly debilitating grief, Eyrich said she got active.
"I started with the billboards," Eyrich said. "I can put her face up there. And I intentionally put the billboard in a place where all of her friends were when she had addiction issues."
WARNING SIGNS
Eyrich has rented billboards in Dalton and Chattanooga with opioid warning messages and the photographs of those who have succumbed to fentanyl and other drugs. In another effort to raise awareness, an organization called Angels Across America is hauling a trailer adorned with photographs of drug victims around the country, she said.
Journaling and advocacy work has helped her more than anything, she said. While she said she knows therapy works for some people, Eyrich said she wasn't really making progress by talking to someone who couldn't know what she was going through.
Along with awareness work, Eyrich said the family is still fighting for justice, hoping the man who brought Jackson the drugs is convicted.
These kinds of investigations take time, and Eyrich said she thinks investigators are trying to convict other suppliers further up in that drug network. At first, investigators with Richmond County Sheriff's Office — Augusta is the county's largest city — were staying in touch, but Eyrich said investigators haven't been responding to her attempts to contact them recently.
"I would love to see Augusta, Georgia, step up and just let me know this investigation is still open, or 'No, we closed it and are not going to do anything,'" Eyrich said. "Just give me something, please, because I'm sitting here every day hoping to hear from them."
Investigators from the Richmond County Sheriff's Office could not be reached for comment before deadline.
Eyrich said she continues to monitor court dockets and arrest reports, and the man from Dalton who supplied Jackson the drugs has been arrested twice on drug charges in Whitfield County since her daughter's death.
But if she can't bring justice to those responsible for supplying Jackson's fatal drugs, Eyrich said she will continue to raise awareness about how easy it is to lose a life through drugs.
LOST VOICES
While Eyrich seems to have found some peace in her faith and advocacy work, Babcock — the Maryland resident who founded Lost Voices of Fentanyl — remains angry four years after her son died from drugs in 2019.
In a phone call, Babcock described her work and what she said is a failure by the federal government to stop the trafficking of drugs.
Babcock said she wanted people to be mad and stay mad — because that's how things get done.
With a Facebook group of about 27,000, Babcock said she meets a lot of parents who don't want other parents to go through the same experience of losing a loved one to drugs. She said she tells group members that hers is not a grief group — it's a group for action, awareness and prevention.
Initially after her son died, Babcock said she was looking for answers through her faith, and that included a trip to Israel. After about a year and a half of screams, prayers and cries, Babcock said she decided to get involved.
"This is a political issue, that's not my fault — it's the Democrats and Republicans," Babcock said, suggesting the political parties can never agree on anything.
Babcock said she works full time while she does her advocacy work and hopes she inspires more people to get involved. She said she has organized multiple rallies, and there's a big one scheduled for Sept. 23 on the National Mall in Washington, D.C.
People today have to negotiate a world where one fake pill can lead to death, Babcock said. Along with the federal government, she blames the pharmaceutical industry for creating "a pill-popping society."
"When I was at my son's funeral, I was offered a Xanax from a couple of people," Babcock said.
Drug dealers are getting away with murder, she said, by distributing fake pills laced with illicit fentanyl. Georgia and Tennessee have laws that allow authorities to charge drug dealers with murder, but Babcock said Maryland does not.
Eyrich said the federal government should do as much for the fentanyl crisis as it did for the pandemic because of the impact drugs like fentanyl have had on families like hers, the Babcock famly and hundreds of thousands of other families.
To emphasize that point, she said Langston lost both of her parents to fentanyl in eight months, expressing sympathy for a generation of children forced to grow up missing parents lost to drugs.
Contact Andrew Wilkins at awilkins@timesfreepress.com or 423-757-6659.