City officials may create a 15-member advisory panel to guide their efforts to boost the amount of park space in Chattanooga.
In June, the City Council unanimously approved a new parks and outdoors plan — the first in 25 years — that aims to create dozens of miles of new greenway trails and hundreds of acres of new parks during the coming decades.
The new Chattanooga Parks and Outdoors Advisory Commission would make recommendations about policies, rules, maintenance, operation and fees.
"It's just good governance," Scott Martin, administrator of the city's Department of Parks and Outdoors, said in a phone call. "We get ... maybe 10 minutes in front of council if I'm lucky on a park item. This gives us a group of residents who are engaged and can really dig into some pretty heavy-duty stuff for how we shape the city."
Photo Gallery
Chattanooga may form 15-member parks advisory board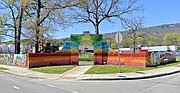 (READ MORE: Members blast state-mandated changes to Chattanooga police review committee)
The Chattanooga City Council will consider creating the board during its weekly meeting at 6 p.m. Sept. 26 at 1000 Lindsay St., according to the board's proposed agenda. It would be the first of two votes.
The mayor would appoint six members, and each of the nine city council members would choose a representative from their districts. At least one member of the parks panel must be 21 years old or younger at the time of appointment. Meetings would occur once a month, according to the proposed ordinance. The city will open an online portal where Chattanooga residents interested in serving on the board can apply.
"The intent is to bring both the wisdom and the learnings from specific districts and blend those with broad citywide objectives," Martin said.
That input could include assessing how the city can reach new donors and best schedule repairs and maintenance. One of the city's goals is to eliminate all deferred maintenance across its parks system.
Council Vice Chair Jenny Hill, of North Chattanooga, said it's important for young people to have a voice in the city's plans.
"They're going to be the ones who will be using those parks for the next several generations," she said in a phone call.
The city also shouldn't develop recreational space in a vacuum, Hill said, noting the new parks and outdoors plan was heavily informed by members of the community.
"To maintain the spirit of that plan we need to have everyday Chattanoogans at the table thinking about how we design our parks, how we fund our parks and how we maintain our parks," she said. "It's one thing to build a park. It's another thing to take care of it."
Another central focus of the city's parks plan is equity. A third of the city's population lives within a 10-minute walk (or a 15-minute bike ride for those living in the suburbs) of a park or trail, according to city officials.
Chattanooga has 8 acres of park space per 1,000 residents, short of the national average of 10.4. To bridge that gap, the city would need to add 443 acres today and 1,222 acres by 2050, a number that accounts for population growth.
The city has several parks projects on the horizon. On Sept. 27, the city will unveil its master plan for Montague Park.
"That's doubling down on 47 acres — our largest piece of public park land in our urban core — and asking that land to do more for more," Martin said. "That's a big move."
(READ MORE: Chattanooga and Hamilton County Schools partnering to turn schoolyards into public parks)
Officials also earmarked funds in the current budget for several other immediate recreation projects: $18 million to renovate the Walnut Street bridge, $1.3 million for Provence Park, $1 million to revitalize the Chattanooga Skatepark and more than $100,000 to support the construction of Lynnbrook Park.
The city also intends to seek a BlueCross Healthy Places grant of $4.7 million for renovations to Sheila M. Jennings Park, which sits in the Westside neighborhood. The City Council will authorize staff to apply for that funding Tuesday.
Martin said the funding would pay for a brand new, fully refurbished neighborhood park that would be a model for the community. That would include a playground, community garden, walking paths, sports field, art and an urban tree canopy.
The Westside community is poised to see major changes as officials assemble the financing to replace aging public housing in that area and build hundreds of new residential units.
(READ MORE: Special tax zone proposed to spur redevelopment of The Bend and Chattanooga's Westside)
The project is tied to the redevelopment of 120 acres of riverfront property called the Bend, which could benefit from public incentives through a special tax district. That has not yet received final approval.
Contact David Floyd at dfloyd@timesfreepress.com or 423-757-6249.