Federal officials remain reluctant to clearly link Mohammad Youssef Abdulazeez's actions on July 16 to his Islamic faith, and after one official in the Obama administration explained why, his statements created a firestorm among conservatives.
Late last week at the Aspen Security Forum, Homeland Security Chief Jeh Johnson ignited a controversy when he said he believed that attackers such as Abdulazeez should be called "violent extremists" and not "Islamic extremists."
Photo Gallery
Puzzling out answers, pouring out grief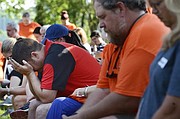 A week earlier, the FBI seemed to take a similar stance. Despite the fact that officials called the attack "terrorism" in the early hours, the final label Abdulazeez received was "homegrown violent extremist."
"I believe strongly - and I hear this over and over again from Muslim leaders in this country - that to refer to ISIL [Islamic State] as 'Islamic extremism' concedes too much.