Photo Gallery
Editorial Cartoons December 2013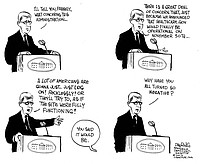 Plaintiffs' attorneys for Woodmore victims can ask Durham School Services for pre-accident information such as employment files and phone records. But they cannot get evidence that will be used in driver Johnthony Walker's criminal prosecution just yet.
Hamilton County Circuit Court Judge J.B. Bennett ruled today Durham has 90 days to come back and give a status update on Walker's criminal case.
Authorities say Walker was behind the wheel when he sped down Talley Road on Nov. 21 and swerved into a tree with 37 Woodmore Elementary students onboard. Walker, 24, does not have a trial date yet. Attorneys said his case will be presented to the grand jury tomorrow or this Monday.
Today's hearing revolved around Durham's request to freeze the dozen lawsuits filed against it until Walker's case is complete. The company, which provides the majority of the county's buses, says it doesn't want to turn over evidence that would violate Walker's right to a fair trial.
Attorneys for the plaintiffs countered the company is avoiding liability and trying to "insulate" evidence by giving it to law enforcement and not them.
"Evidence disappears, memories fade, and witnesses die," attorney Bo Hixson said. He is representing one of the families whose child was hurt in the accident.
"Everyone's talking about what Walker is entitled to," he said, "but no one's talking about what the plaintiff is entitled to: Justice."
This is a breaking story. Check back later for more information.