Photo Gallery
Arkansas Womens SEC Tournament Practice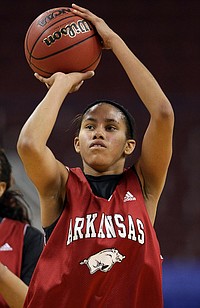 Arkansas Women's SEC Tournament Practice on March 4, 2009.
Chattanooga police on Wednesday embarked on a trip to return fallen Officer Nicholas Galinger to his hometown of Cincinnati, where he will be buried Friday.
Galinger, 38, died after being struck by a car on Hamill Road in Hixson while inspecting a manhole cover after recent heavy rains.
More than a hundred police officers lined sidewalks on both sides of East Brainerd Road to Interstate 75 North.
As both the Chattanooga Police Department and our community stands for Ofc. Nicholas Galinger's journey home.

Posted by Chattanooga Police Department on Wednesday, February 27, 2019
As the procession was leaving Heritage Funeral Home, a K-9 officer began to bark in response to an officer's command.
Drivers who were stopped at one intersection got out of their vehicles to salute the champagne gold hearse carrying Galinger's body. His family followed behind in a black truck.
It was the first leg of a multi-state, multi-agency effort.
The Chattanooga motor unit and the Tennessee Highway Patrol are escorting Galinger to Knoxville, where the Knoxville Police Department will take over the escort. Highway patrol personnel in each state will take over the escort until they reach Cincinnati.
It was an honor for our Officers to help escort fallen Chattanooga Police Officer Nicholas Galinger as he passed through Knox County this morning to his final resting place in Cincinnati Ohio. Please continue to keep the family, friends and colleagues of Officer Galinger in your thoughts and prayers during this very difficult time. Chattanooga Police Department

Posted by Knoxville Police Department - TN on Wednesday, February 27, 2019
The Cincinnati Police Department will take over once the procession reaches city limits.
Chattanooga Mayor Andy Berke and city council members Chip Henderson and Darrin Ledford, who were at Galinger's police academy graduation just a month before his death, were present as the escort left.
"I'm not sure I could really describe the emotions that I felt hearing the news," Henderson said. "It's such a tragedy. It's something that you just have to deal with on a minute-by-minute, hour-by-hour basis."
Ledford called the incident "very soul-shaking."
"You have a million questions in your head: what happened, why, and what can we do next, how do we heal? That's always the lingering questions," Ledford said. "You search for purpose in any kind of incident/accident like this. It really shakes you, and it shapes where you go forward."
Lt. Danny Jones organized the procession.
"Any time that you do anything like this, it's never easy," he said. "It can be a little bit trying and testing at times."
But, he said, "this is an opportunity for the guys and gals that work beside Nicholas to be able to honor [him] in a very special way. And not only that, they also let the family know the support system that Nicholas had, and that's huge for the family, especially during the grief process."
Seeing the citizens and officers standing in salute was very emotional, Jones said.
"Specifically because it's one of your own," he said. "You know, it's one of your brothers in blue. Any time that we have a opportunity to honor someone in that way, it's your last goodbye to that person."
His fellow officers are all brokenhearted, he said. The Chattanooga department was just starting to grieve the unexpected death of training Sgt. John Monroe on Feb. 21. He had been with the department since 1998.
"We're all putting our game face on, if you will, and going out here and doing the job that we are prescribed to do even when we're hurting inside," Jones said.
"So anyone that knows any police officer, you need to reach out to that man, that woman and tell them how much you care about them," he said. "And thank them for the service that they do, because, ultimately, it's those small things that bring us out of that."
Galinger's funeral will be at 11 a.m. Friday in Cincinnati. About 40 Chattanooga police officers, including 21 from Galinger's cadet class, are traveling to Ohio to attend the visitation Thursday and funeral Friday. Chief David Roddy has been asked by the family to speak at the funeral.
Contact staff writer Rosana Hughes at rhughes@timesfreepress.com or 423-757-6327 with tips or story ideas. Follow her on Twitter @Hughes Rosana.