Photo Gallery
Great Smoky Mountains wildfires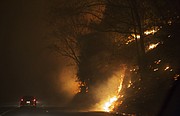 View Our Coverage of the Deadly November 2016 Storms
Four area counties have been removed from Tennessee's burn ban list to help speed up recovery from recent tornadoes.
The Tennessee Department of Agriculture announced Wednesday afternoon that Coffee, Marion, McMinn and Polk Counties are no longer subject to the burn ban
"We've been grateful to see rain falling in many areas of the state, but it's important to note that Tennessee STILL remains in a drought," the department said in a Facebook post. "Due to the rain some counties have been removed from the Commissioner's burn ban"
Removing the burn ban for the four counties is expected to help with the disposal of debris generated from last week's tornadoes.
The move leaves 47 east Tennessee counties still under the ban, which is expected to last until December 15.