It's been a breathtaking month filled with "whys."
Why us? Why now?
Yes, cities all over the world have suffered terror attacks and mass murders, but now we're on the list, too, and the emotions are hard to shake.
Last week's killing spree here placed Chattanooga in the 21st century narrative. The fact that we now pass terror scenes on our commutes home makes us crave safety.
Photo Gallery
A day of tribute, remembrance for the fallen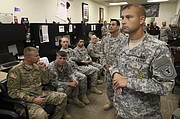 In the Greeson family, we are also asking "Why?" these days, but on a more personal level.
My mom, who turned 69 on Wednesday, spent a good part of her birthday having staples removed from her scalp.