We couldn't protect them. We couldn't save them, but we can honor them by making sure that everything placed out here is taken care of, in the place where it needs to be.
Monday's rain didn't stop the Daughters of the American Revolution from collecting flags and flowers planted at a makeshift memorial for servicemen killed in Chattanooga on July 16.
The women want the five fallen servicemen and the outpouring of public support for them to be remembered.
Photo Gallery
Makeshift Lee Highway memorial to servicemen cleared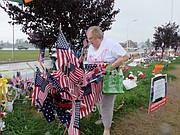 "I get emotional because it's a sacred place," said Gertie Jarnigan Day of Harriman, Tenn.
Day stood crying in the rain near the memorial on Lee Highway.