Photo Gallery
Haunted House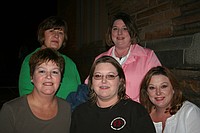 The annual EMOBA Haunted House is busy scaring people for 2 weeks out of the year...
The FBI is not calling Mohammad Youssef Abdulazeez a terrorist - not yet, at least.
Officials, for now, are labeling him something else. The words used at a news conference Wednesday were more nuanced.
"He is being treated as a homegrown violent extremist," said FBI Special Agent Ed Reinhold.
Terrorists, by definition, are killers with an ideological agenda, experts say. They intend for their violence to send shock waves, to strike fear and influence policy.
Yet, so much is still unknown about Abdulazeez's intent, although it is clear his faith played a significant role in his decision to arm himself, fire into a military recruitment center and then ram into a military base and kill five service members.
On