(The turnout for the funeral) took our breath away. Chattanooga has touched us.
Photo Gallery
Wyatt funeral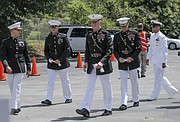 Upcoming funerals
Sgt. Carson Holmquist Today at 1 p.m. in Grantsburg, Wisc. Lance Cpl. Squire "Skip" Wells Sunday at 2 p.m. at First Baptist Church in Woodstock, Ga. Gunnery Sgt. Thomas Sullivan Monday at 10:30 a.m. in Springfield, Mass. Petty Officer 2nd Class Randall Smith Tuesday at 2 p.m. at First Baptist Church of Fort Oglethorpe
Seven men in crisp uniforms walked into the church, six gripping the casket handles, one leading them out front.
The Marines in Mike Battery had drilled for a moment like this, the way they drill through even the most mundane details of their jobs.