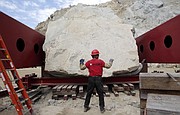 Every day at Bonefish Grill is a delicious experience. But on Wednesdays, you'll get more bang for your buck if you're as much a fan of the Bang Bang Shrimp as am I. The dish simply explodes in your mouth. It's like a firecracker of flavor going off in every direction, all at once.
THE MENU
Bonefish is more than fish. Chicken, steaks and seafood of every variety make up an expansive menu that is not afraid to venture outside expected boundaries. The menu takes a no-holds-barred attitude toward turning bold flavors into creative, beautiful presentations. And, yes, presentation is as much a part of the overall dining experience as anything else.
The order (for two): Bang Bang Shrimp ($7.90 -- $5 on Wednesdays through July); Lily's Chicken ($12.90), sea scallops and shrimp with Pan Asian sauce ($15.90).
The name Bang Bang Shrimp is Thai in origin, coming from the Thai sweet chili sauce that envelops delicate fried shrimp. It's not overly spicy but has enough of a kick to keep things interesting. I just can't get enough. They really need to think about turning this into an entree. They already serve it on tacos, but what about a Bang Bang salad or just a big plate of Bang Bang shrimp? It's that addictive.
If you go* Where: Bonefish Grill, 2115 Gunbarrel Road.* Phone: 892-3175.* Hours: 4-10:30 p.m. Monday-Thursday, 4-11:30 p.m. Friday, 3-11:30 p.m. Saturday, noon-9 p.m. Sunday.* Price range: $3.90 (steamed/seasoned edamame)-$27 (cold water lobster tails).* Alcohol: Full bar.
Because I was splitting my Bang Bang Shrimp with my dad, I thought I had plenty of appetite left for Lily's Chicken. I've had Bonefish's tilapia and grouper before with Pan Asian sauce, one of the four sauce choices, so this time I went for turf rather than surf.
The chicken was excellent -- a large breast of chicken with such a good char-grilled flavor. What made it even better was the goat cheese and lemon basil sauce. On top were spinach and an artichoke heart. Their flavors were overpowered by the goat cheese, but the combination looked really pretty. All in all, one heck of a good dish.
My dad's sea scallops and shrimp were delicious, as expected. One nice thing: The servings were just right, the perfect amount of food for dinner.
Each entree comes with one side. For 50 cents more, you can get a second. I chose steamed broccoli and the vegetable medley. I wish I'd been told that the vegetable medley was primarily broccoli. It was very good but maybe too much of a good thing.
THE SERVICE
Our server was quite professional in every detail from delivery to finale, though he did pull a disappearing act after bringing one water refill. An additional checkup would have been nice.
THE SPACE
Bonefish has a stylish, kind of clubby, atmosphere. You enter through a large revolving door with fish-shaped handles. The lighting is dim, tablecloths dress the tables and wooden floors gleam with a high polish. Bonefish is a comfortable place that takes you a world away from busy mall action.
THE VERDICT
I know why it's been so long since I've been to Bonefish. It's off my radar, clear on the other end of town from where I live. But I realize that's a bad excuse. Bonefish is a dining destination. If you do nothing more than travel to Hamilton Place, eat at Bonefish and leave, you'll drive away quite content. Sure, it's a chain restaurant, but it's one that's a little over the top -- in a good way -- when it comes to a memorable dining experience.