Photo Gallery
Mocs top Samford, clinch top spot in SoCon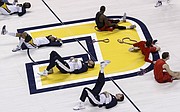 Read morePhoto: Spirits up despite damp day at RiverRocks
The temperature was ideal but the footing was treacherous Saturday morning, making a StumpJump 50k record very unlikely on the single-track course beginning at Signal Mountain Middle High School.
A wrong turn ensured that it would not happen.
Jonathan Allen of Simpsonville, S.C., was the men's winner in 4 hours, 27 minutes, 3 seconds, and Salomon-sponsored Kerrie Bruxvoort from Broomfield, Colo., was the female winner as expected and 23rd overall in 5:14:15 in the Salomon Rock/Creek Series race.
Favored or not, Bruxvoort almost let victory slip away early in her first trail ultra-marathon east of the Mississippi River.
The first bridge she came to looked slick, she said, so she took a light step and then found herself sprawled out with one leg hanging over the side and her other foot stuck in a board.
"I got passed by about four women and a bunch of men. I thought, 'I'm done, one mile in,'" said the 36-year-old winner by course records of this year's Mesquite Canyon and Greenland Trail 50s, among other ultra victories. "It took me two miles to catch up [to the women]."
Whitney Garcia of Boulder, Colo., was the second female in 5:24:54, and Meghan Shaffer of Memphis was third in 5:33:35.
The top three guys had Colorado connections, too. Allen, 33, moved to South Carolina two years ago after eight years in Utah, but he was a Colorado resident through his high school years. Duncan Callahan, 29, from Gunnison, Colo., was second in 4:32:57. Finishing third in 4:47:20 was Brian Costilow, 38, who lived in Colorado for seven years before moving here last year and running in the 2011 StumpJump.
He grew up in Alabama and lived in Nashville when he ran in the second and third versions of the 11-year-old StumpJump.
Banged up from a "few" falls, Costilow said he "had a little sink" from about 19 miles to 25 or so and then regained his energy. He found himself leading early on when the lead pack, including multidistance star Max King from Bend, Ore., and local standout Johnny Clemmons, went in the wrong direction for a good distance.
"I was the first one behind that group," Costilow said. "I yelled at them -- I even slowed down to try to get their attention -- but I guess they were so focused on their footing and each other that they didn't hear me. A [volunteer] on the course said he told them, but they kept going."
King was clearly disapppointed but philosophical afterward, despite his long trip to compete.
"About 10 guys took the wrong turn -- or didn't take the right one," he said.
By the time they realized their mistake, they had too much time to make up and "about 400 runners" to pass, which would have been very difficult on a single-track trail. So at least most of the group came on in.
King, whose legs were tired anyway from a 100k in Virginia the previous week, ended up running about 24 miles instead of the race's 31-mile distance.
"They have a beautiful trail race here," he said. "I really prefer shorter distances, like half marathons, but I do a lot of ultras."
Allen, who had a couple of scrapes from falls -- "If you don't fall in a trail race, you're not going fast enough," he said -- wasn't with the out-front pack because he missed a turn earlier, about two miles in.
"It only cost me about 30 seconds," he said, "but I fell behind the lead group. When I got to the second aid station I asked them how far behind I was, and they told me about the other guys and said only one guy was ahead of me."
That was Costilow, and Allen ran with Callahan for awhile and eventually passed the Signal Mountain man.
"It was a fun course -- sticky and slick," Allen said, including the mud and moss among the hazards. "I thought I could've been quicker, but a win's a win. And I saw some deer today."
Since moving to the Southeast he's been trying to schedule all of the region's top trail races. He thought about the StumpJump last year but couldn't work it in, he said.
"It's a great race. This was one of the best I've seen," Allen said. "It was phenomenal."
Bruxvoort echoed that.
"The temps were great, the aid stations were wonderful, the volunteers were excellent, and it was absolutely beautiful," she said. "You just had to really slow it down on the sharp turns and the stairs and the bridges. I got off to a bad start, but I was able to get it back together.
"I feel for Max and those guys, though."
Kevin Cook of Atlanta and Whitni McConnell of Athens, Ga., were the 11-mile race winners in 1:22:35 and 1:41:12.