Photo Gallery
Cleaning big rigs with a little water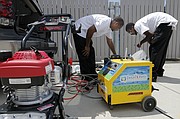 David Graham has been a Sierra Club member since 1977.
He worked for years at the Tennessee Valley Authority, helping area colleges and universities reduce their power usage, or "energy footprint."
And now, in his retirement, Graham has become the local franchisee of what he said is an eco-friendly, mobile, vehicle-washing business. Graham on Wednesday officially launched DetailXPerts of Greater Chattanooga.
For more info
Learn more about DetailXPerts of Greater Chattanooga at chattanooga.detailxperts.net or call (423) 315-7886.
"It's far superior to traditional cleaning," Graham said. "It uses hardly any water."
DetailXPerts' technology requires only five gallons of water to clean a big rig with a 53-foot-long trailer attached, Graham said, instead of 150 to 200 gallons of water required in a traditional semi-trailer truck wash.
Graham and representatives from Detroit-based DetailXPerts demonstrated the cleaning process Wednesday morning at Coolidge Park and then again Wednesday afternoon outside the INCubator, the Hamilton County Business Development Center, at 100 Cherokee Boulevard.
Technicians washed Graham's sport-utility vehicle at the INCubator with a standard pressure washer. But instead of being connected to a hose, it got its water from a plastic five-gallon container. The "continuous flow" water tank is a DetailXPerts' innovation, Graham said.
Then, technicians finished the job by going over the SUV's exterior with an Italian-made steamer that also can be used inside vehicles.
"It sanitizes the interior (of a vehicle). Nobody [else] does that," Graham said.
Steam-cleaning is another DetailXPerts' innovation, said Angela Williams, president of the company, who was in Chattanooga for Graham's grand opening ceremony. Williams said her husband, Emmanuel Williams, has been working on the idea since he was 8 years old.
That was when Emmanuel Williams asked his father, "Hey dad, why don't we clean cars with steam?" she said.
Graham, who has hired one technician to help him, initially plans to offer his mobile steam-cleaning business to Chattanooga-area trucking companies, which he figures will be three-fifths of his business. He thinks another fifth of his business will be cleaning cars and a fifth will be from boats and RVs.
Graham expects the service he offers will appeal to trucking companies that are committed to "green" practices. He said he's talking with two large trucking businesses and one smaller one. Graham declined to say how much he planned to charge per truck.
DetailXPerts hopes to open 1,100 franchises across the country over the next decade, said Bob Pirtle, the company's head of franchise expansion, who also was in Chattanooga Wednesday. Starting a franchise, which includes getting cleaning equipment, costs from $73,000 to $182,000, company officials said.
Graham said he's the company's third U.S. franchisee. His territory includes Chattanooga, Hamilton County and Cleveland, Tenn.
"I basically invested close to $200,000 to get this business going," Graham said.
Contact staff writer Tim Omarzu at tomarzu@timesfreepress.com or www.facebook.com/tim.omarzu or twitter.com/TimOmarzu or 423-757-6651.