Photo Gallery
Riverboat Captains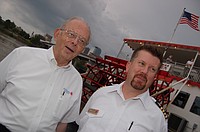 Navigating the Arkansas River on the Arkansas Queen
Related article
Circus brings protesters, parents
Alex Petrov is a Ringling Brothers star given his rare talent for racing a motorcycle across a thin, high wire. He can hold his own in the Globe of Steel, which looks like a Thunderdome death trap where three motorcyclists zoom past each other, often upside down inside the cage.
Despite his skill, Petrov has the humble, smelly task of shoveling elephant poop out of the two semi-trailers where Asia and April dwell. Petrov trains the two elephants, which requires him to park the RV he calls home next to their trailer in case they want his reassuring company in the middle of the night.
When April and Asia retire to Florida in 2018, Petrov will miss them, but he shrugs off any worry that their departure will dent circus attendance. Despite the controversy over the ethics of circus animal acts, Ringling seems able to coax a lot of people off the couch and into the tent.
"I never knew I would be her trainer until I discovered I enjoyed working with the elephants and they liked me," Petrov said as he fed Asia her breakfast of sliced sweet potatoes, banana chunks and carrots. "They recognize different humans and other elephants by smell, so they know who is training them."
It's difficult to guess at the circus salary hierarchy. Different groups of workers - concessionaires who make popcorn; the Teamsters who unload props; the light and sound crew; trapeze artists - are governed by different contracts.
Forbes magazine declared Ringling Bros. and Barnum & Bailey Circus CEO Kenneth Feld - who also owns Monster Jam and Disney on Ice as well as other live extravaganzas - the world's second circus billionaire (Cirque du Soleil's Guy Laliberte was the first) with an estimated $1.8 billion in revenue in 2013.
"Ringling is privately owned by Feld Entertainment and it doesn't normally share numbers," Ringling general manager Jason Gibson said. "All the performers and staff get health insurance and 401(k)s as part of their benefits package."
Gibson and Petrov travel with Ringling's "gold unit" through smaller markets like Chattanooga, where the intimate one-ring circus seems more supportable than the the three-ring spectacle that tours big cities.
Gibson describes the economic impact on Chattanooga: 40 of the 120 circus employees stay at a local hotel; 24 travel in RVs that are parked in a nearby field.
Each day, truckloads of hay and produce are hauled to McKenzie Arena to feed the animals. The circus vet banned peanuts from the elephants' diet for being too fatty but allows them an occasional loaf of unsliced bread or some marshmallows for treats. On performance days, a local caterer feeds the human employees, or they buy their meals in restaurants or grocery stores.
The circus carries its own washing machines and dryers, computers and props. It has a free day care center with two teachers for employees to use and a free, fully staffed school for K-12 students.
The gold unit hits 42 cities in an average year, which means 46 to 48 weeks on the road. Gibson said a lot of circus employees visit Ruby Falls and the Tennessee Aquarium when they get to Chattanooga.
But the schedule does not leave much time for socializing outside of the circus. Many performers are third- or fourth-generation Ringling employees who marry other Ringling staffers and raise their kids on the road. Petrov and his wife, Victoria, have a 17-year-old son who grew up attending the traveling school.
"We wanted him to go to college, but he wants to perform with the circus as a juggler, the same way I started," said Victoria, who wore her silk costume and sparkling bronze tights to dress rehearsal. "It was the same story for my parents. They met and fell in love working at the circus. And I wanted to do what they do."
Contact staff writer Lynda Edwards at 423-757-6391 or [email protected]