Photo Gallery
Josh Dobbs delivers gem in Vols' finale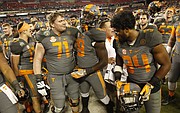 NASHVILLE -- Tennessee finished the 2016 season with a 38-24 victory against Nebraska in Friday's Music City Bowl at Nissan Stadium in Nashville.
Now the Volunteers enter an offseason where plenty of questions need to be answered and many dominoes are set to fall, the first coming hours after the win when running back Alvin Kamara made official his long-expected decision to jump to the NFL draft.
More on his decision is coming in Sunday's Times Free Press, but for the final time this season, here's a look back at Tennessee's win.
FRIDAY'S STAR
Quarterback Josh Dobbs and defensive end Derek Barnett led the way in Tennessee's third straight bowl win. In his finale, senior Dobbs totaled 409 yards (291 passing, 118 rushing) and accounted for four touchdowns, including a bowl-record three scoring runs. Barnett was a game-changer throughout the contest and got the sack he needed to break Reggie White's career record of 33.
FRIDAY'S STAT
Tennessee's defense gave up 661 yards per game in its past three games against Kentucky, Missouri and Vanderbilt, but the Vols held Nebraska to 318 on Friday. The Cornhuskers were without starting quarterback Tommy Armstrong Jr. and leading receiver Jordan Westerkamp. Yet aside from a few moments, the Vols rarely looked like the defensive disaster they were in November.
TURNING POINT
The Huskers scored 10 straight points early in the fourth quarter with the help of freshman Tyler Byrd's fumble on a kickoff return and had Tennessee's lead down to 31-24 with plenty of time left. The Vols answered decisively through Dobbs, who ran for a first down on third and hit Josh Malone for a 59-yard touchdown to quell Nebraska's momentum and seal the victory.
HIGHLIGHT PLAY
There were many to choose from between Dobbs, who often turned nothing into something as he has throughout his career, and Barnett, whose relentlessness isn't truly appreciated unless it's in person. The nod has to go to Barnett's record-breaking sack, though, as he finally brought down Ryker Fyfe with three-plus minutes remaining after coming close countless times all game long.
WHAT IT MEANS
Tennessee wrapped its second consecutive 9-4 season with a third consecutive bowl win. The 2016 season was one where the Vols fell short of expectations and could only blame themselves, but it will end on a high note for the seniors like Dobbs and LaTroy Lewis and the outgoing juniors. The Vols will lose a lot of talent, and there are plenty of questions heading into 2017.
BY THE NUMBERS
22-9: Josh Dobbs's record as Tennessee's starting quarterback the previous three seasons. He was not always perfect, but where would the Vols be right now without him? Dobbs finishes his career with 87 total touchdowns (53 passing, 32 rushing and two receiving) and a lengthy highlight reel of him turning nothing into something.
61: Tennessee's maligned defense entered the game 110th nationally against the run, but limited Nebraska to 61 yards on the ground on Friday. The Vols allowed 350 or more rushing yards in four games this season (Texas A&M, Alabama, Kentucky and Missouri) and held just one opponent (Ohio) under 100 yards. Tennessee had seven tackles for loss against the Cornhuskers.
4: Nebraska allowed only 11 sacks all season, but the Vols recorded four on Friday. Before Derek Barnett's record-breaking sack in the game's final minutes, LaTroy Lewis, Corey Vereen and Jonathan Kongbo all got to backup quarterback Ryker Fyfe. Tennessee will finish the season with 30 sacks and 100 tackles for loss, the latter a program record.
972: Junior receiver Josh Malone caught five passes for 120 yards and a key touchdown on Friday, and though it's the 10th-most yards in a single season by a receiver in program history, he'll finish just 18 yards short of a 1,000-yard season. Malone averaged 19.4 yards on his 50 receptions this season and finished with 11 touchdown catches, the most since Robert Meachem in 2006.
1994-96: The Vols last won three consecutive bowl games in the mid-1990s, when they beat Virginia Tech in the Gator Bowl and Ohio State and Northwestern in back-to-back Citrus Bowls. The win against the Buckeyes memorably came against Heisman Trophy winner Eddie George. Tennessee is now 28-24 all-time in bowl games, and the 28 bowl wins are the fifth-most in college football.
Contact Patrick Brown at pbrown@timesfreepress.com.