Photo Gallery
Chelsea Clinton through the years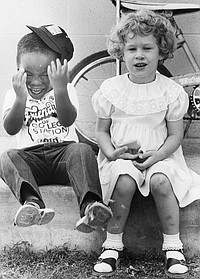 PHILADELPHIA (AP) - For all of the hoopla attached to a political convention, it all comes down to this: that moment when the presumptive nominee becomes the nominee outright.
On Tuesday night, Hillary Clinton is to become the first woman presidential nominee of a major party.
The result is foreordained, but the roll call of the states will nonetheless be an emotional coda for Bernie Sanders supporters whose passion and energy took the Vermont senator from fringe candidate to serious contender.
Some things to watch for at the Democratic convention on Tuesday:
ROLL CALL
All of the energy and angst of the hard-fought primary battle between Clinton and Sanders will culminate in the roll call of the states. Each state delegation will get a chance to announce how its delegates are voting. Sanders delegates have pushed to have their votes fully tallied.
Sanders has left open the possibility that Clinton could receive the nomination by acclamation - or unanimous nomination - at the end of the roll call. That may not satisfy his delegates. Some are ready to boo or even walk out if there is a unanimous nomination.
In 2008, Clinton halted the roll call midway through to call for then-Sen. Barack Obama's approval by acclamation, or unanimous vote.
___
FIRST DUDE
The spouse of a presidential nominee always gets some love at a party convention. And Bill Clinton's speech Tuesday night will pique extra interest since he hopes to be the first first man. Bill Clinton also carries the extra title of ex-president and is a beloved figure to party faithful.
But the former president carries with him the baggage of numerous scandals and investigations from his years in the White House. And Clinton, famously protective of his wife, can get in trouble when he gets carried away in defending her.
Watch how he's introduced: Hillary Clinton has joked that she's still working on what to call her husband if she's elected, offering "first dude" and "first mate" as possibilities.
___
MOTHERS OF THE MOVEMENT
Hoopla and celebration will give way to a somber moment when the convention showcases "mothers of the movement" - women whose children have died in gun violence.
The speakers will include the mothers of Eric Garner and Michael Brown, both killed by police. The moment will not be without controversy: Philadelphia's police union complained that Clinton was showcasing killings by police without giving equal time to the families of fallen officers. Clinton's campaign responded that two members of law enforcement also are on the convention schedule.
___
MANNERS, MANNERS
Will they heed their leader? Sanders' supporters are bringing a lot of emotion to the convention hall with them, and their leader is having trouble containing it.
Sanders has sent out text messages and emails asking his supporters "as a personal courtesy" to him to "not engage in any kind of protest on the floor." The Vermont senator said in an email that the movement's credibility "will be damaged by booing, turning of backs, walking out or other similar displays."