Photo Gallery
Riverbend headliners at a glance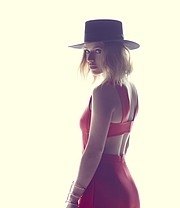 If you go
› What: Chris Young› When: 9:30 tonight› Where: Coca-Cola Stage
Last Sunday night, Chris Young was performing on a Las Vegas stage at the Miss USA pageant. Tonight the country music star is in Chattanooga, headlining Riverbend's Coca-Cola stage.
Festival-goers will be among the first to hear Young perform his new single, "Sober Saturday Night," which was released to country radio last week. Although it's early on in airplay, listener feedback on the song has been very positive, says Dex Poindexter, on-air personality at WUSY-FM/US 101. The song features background vocals by country star Vince Gill.
"He has a way of finding just the right songs," says Poindexter. "He's on a roll. I don't think there is any stopping that guy."
The success Poindexter refers to includes two No.1 singles from Young's album, "I'm Coming Over," and the tour of the same name. The album's first two singles to reach No. 1 were the title track and "Think of You," Young's wildly popular duet with Cassadee Pope. "Sober Saturday Night" is its third release and - with luck - may top the charts to give Young a musical three-peat.
"'I'm Comin' Over' was a sexy song and 'Think of You' was a duet and relationship-based song. But 'Sober Saturday Night' is just straight up a sad song," Young told nashcountrydaily.com. "All three of these songs have been very different from each other and obviously with Vince Gill being on there, it's just extra special to me because I'm a huge Vince Gill fan."
Joe "Dixie" Fuller, Riverbend talent and production coordinator, thinks Young's nationally televised pageant appearance can only help boost attendance at tonight's show.
"I love it! I think it plays right into our hands because it's a totally different demographic that watches those pageants, and that may spur them to come to Riverbend," he says. "He seems to be a big favorite among the ladies, so tonight's a big night with him here."
Young was a 20-year-old country singer from Murfreesboro, Tenn., when his music caught the public's attention through a win on the country music reality TV show "Nashville Star" in 2006. The win earned him a contract with RCA Records, but it didn't jumpstart his career like other TV talent winners of that decade. Hard work and perseverance got him his first Top 40 hit, "Voices," in 2008.
In October 2009, his fourth chart single, "Gettin' You Home," reached No. 1 and his career has only climbed since. His Riverbend show will be filled with hit after hit, including "Tomorrow," "Aw Naw," "Who I Am With You" and "I Can Take It From There."
Contact Susan Pierce at [email protected] or 423-757-6284.