If you go
* What: Wayne-O-Rama grand opening.* When: 2-7 p.m. Saturday, Nov. 19.* Where: Tenn Art, 1800 Rossville Ave.* Admission: Free* Website: Wayneorama.com.
Photo Gallery
Wayne-O-Rama spotlights art in the Scenic City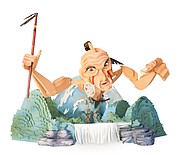 Wayne White is quick to credit his first-grade teacher, Sandra Stoddard, for making him believe he would be an artist. She announced to the class on his first day of first grade at Hixson Elementary School that White would grow up to make art for a living.
He credits the tourism industry in Chattanooga for influencing how his art would look and feel.
"I always say in my talks that my first idea of the art world was Chattanooga's tourist attractions," he says. "They took the beautiful landscape and history and memories and heightened it and dramatized and made it sexier and charged you to see it."
After a career that has seen him win three Emmy Awards for his production and design work on "Pee-Wee's Playhouse" and groundbreaking music videos for people like Peter Gabriel, White has returned home at least part-time to create Wayne-O-Rama.
It's a large-scale project with bigger-than-life elements including giant cardboard puppets, including one of Chief Dragging Canoe, founder of the Chickamauga tribe, and a huge Styrofoam and wood depicting Lookout Mountain.
"It's an epic sort of view of the mountain because it captures the magic of the mountain," White says.
Wayne-O-Rama is housed in a studio space White calls the "Chattanooga History Fun House" on Rossville Avenue. A grand opening will take place on Saturday, Nov. 19, complete with live music, a proclamation from Chattanooga Mayor Andy Berke and Hamilton County Mayor Jim Coppinger to declare "Wayne White Celebration of Art and Education Day in Chattanooga, Tennessee."
Wayne-O-Rama is co-produced by the Shaking Ray Levi Society with support from the Benwood Foundation, the Footprint Foundation, Lyndhurst Foundation and the McKenzie Foundation.
The studio space on Rossville Avenue is officially known as Tenn Art and will be home to Shaking Ray events such as concerts, art workshops and student field trips through September of next year.
The pieces all represent the people, places and things that meant something to White while growing up here. There are puppets depicting other Chattanooga-born notables such as Chattanooga Times and New York Times publisher Adolph Ochs, actor Samuel L. Jackson, blues legend Bessie Smith, Emma Wheeler, a pioneering black woman who opened a hospital here, local TV kids show icon Bob Brandy and radio and TV legend Luther Masingill, among others.
All were designed by White and built by volunteers, according to spokeswoman Jennifer Crutchfield.
"We've had probably 800 volunteers since September," she says. "Students, kids, families. About eight a day. It really has been neat."
Wayne-O-Rama will be open between 11a.m. and 6 p.m. Wednesday through Sunday.
White hopes Wayne-O-Rama "will be an inspiration for the young and old, reflecting not only the Southern experience but also reaching out to the whole world."
"It's a vision that welcomes everyone."
Contact Barry Courter at bcourter@timesfreepress.com or 423-757-6354.