Photo Gallery
Vols blocked from SEC title game but outscore Missouri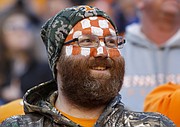 KNOXVILLE - Butch Jones may not want to admit it, but there was a bittersweet tone to the penultimate Saturday of the regular season for Tennessee.
The Volunteers won another shootout with quarterback Josh Dobbs starring in the final home game of his productive and successful career, but the tenor of the season changed before halftime of the 63-37 win against Missouri at Neyland Stadium.
Florida's surprising win at LSU earlier Saturday clinched the SEC East for the Gators and left unmarked one box on Tennessee's list of goals for the season.
"I actually just found out what happened when I was sitting in there doing a radio show," Vols left tackle Brett Kendrick said, "but I knew on the sideline when they stopped showing the score.
"I knew something was up. I kept looking up there and said, 'You know, the score's gone, they're not showing it anymore.' That can't be a good thing."
Missing out on Atlanta, especially when a head-scratching loss at South Carolina kept Tennessee (8-3, 4-3) from getting there, is certainly a disappointment for the Vols, but Jones made it clear he wanted the focus to be on Saturday's win.
"Never heard me talk about it," he said. "Never heard the players talk about it. Our goal is to be 1-0 every week, and what happens happens. Again, I'm not going to sit in here and explain - we just won eight games. That hasn't been done here in a very long time. We have an opportunity to win nine (in the regular season).
"Obviously we have strong expectations in this football program, but right now I'm going to talk about the win and talk about our seniors and how far our football program has come."
All isn't lost for Tennessee. The Vols still have a chance to play their way into consideration for the Sugar Bowl and win 10 games in a season for the first time since 2007. As Jones pointed out, Tennessee is 14-3 in its past 17 games, but the Vols have had to watch Florida win the division in back-to-back years.
"It's disappointing," linebacker Darrin Kirkland Jr. said. "You always want to play for championships in this league. But it is what it is."
Tennessee didn't put away Missouri (3-8, 1-7) until early in the fourth quarter, when a defense that gave up a program-record 740 yards got a stop in the red zone and forced a three-and-out to allow Dobbs and the offense to extend the lead.
The Vols made some timely defensive plays despite the ugly statistics. Micah Abernathy's interception set up a touchdown in the third quarter. Cortez McDowell made a key play on fourth down later in the frame.
"It's all about winning the football game, and I thought we made some critical stops in some critical moments," Jones said. "We talk about taking the football away, so there were some things to build upon. Obviously it starts first of all with tackling. We did not run our feet. We were lunging. We were in our gaps a number of times and just missed the tackle."
Added Kirkland: "It is disheartening when you see how many yards you gave up, but we're happy with (winning)."
The Vols' injury-ravaged defense allowed more than 400 rushing yards for the second game in a row.
"It's frustrating," cornerback Rashaan Gaulden said. "I won't lie, I looked at the stat sheet and saw 740 total yards. You can't really get too high about it because that's a lot of yards. All we can do is focus on the win, but at the same time, we need to fix some of the problems."
Dobbs had no problems punishing Missouri's SEC-worst defense as he finished his home finale with 413 yards and five total touchdowns and rushed for a career-best 190 yards.
He had touchdown runs of 30 and 70 yards and added a 40-yard run during Tennessee's 42-point second half.
"I'm glad he's on our team," defensive end Derek Barnett said. "The offense bailed us out a lot, and Dobbs, y'all see the game. He did some crazy things out there. I'm really glad he's on our team."
It was a special performance by a special player on a day when Tennessee didn't get the help it needed elsewhere.
"You always want to win every time you step on the field," Dobbs said, "and we definitely have had our opportunities. I guess that's maybe something you look back on, but right now we just have to focus on Vandy and preparing and getting ready to go next week."
Contact Patrick Brown at pbrown@timesfreepress.com.