Photo Gallery
Vols re-rally past Georgia on game-ending Hail Mary pass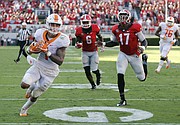 ATHENS, Ga. -- It's never boring with these Tennessee Volunteers.
Another slow start, another impressive rally and a defense stepping up in the second half.
After rallying from a 17-0 deficit, the Vols had just enough time to answer after somehow giving up a 47-yard touchdown pass with 10 seconds left and Jauan Jennings won Tennessee the game by pulling down a Hail Mary on the final play.
Here's a look back at the crazy game.
SATURDAY'S STAR
It has to be Jauan Jennings, right? The Tennessee wide receiver, who started his career as a quarterback, played a big role in the Vols' vanquishing of Florida last week, but his performance against the Gators paled in comparison to what he did on Saturday, when Jennings rose highest in a crowd of players to pull down a Hail Mary touchdown on a final play that will be replayed a million times.
SATURDAY'S STAT
Tennessee outscored Georgia 20-7 in the fourth quarter on Saturday -- with 19 seconds it was 14-0 -- to push its season scoring total in the final frame to 69-21. Last season the Vols were outscored 73-72 in the final quarters of games. The team's focus all offseason was on finishing, and the Vols are coming through in the clutch, even there's been luck and/or magic needed for some of them.
TURNING POINT
You couldn't blame Georgia for drawing a celebration penalty after Eason tossed a 47-yard go-ahead touchdown to Riley Ridley with 10 seconds left, but the 15-yard penalty moved the ball back to the 20-yard line on the ensuing kickoff. Evan Berry's return across midfield of the short kickoff -- he wisely ran out of bounds with four seconds let -- gave the Vols one final shot to win it.
HIGHLIGHT PLAY
Pretty obvious call here. Tennessee's sideline erupted when Jennings pulled down the ball and the win. The Vols discussed trying a hook-and-lateral play on the final snap before electing to take a shot for the end zone. Tennessee, like many teams, practices the play, and head coach Butch Jones joked it always works because the Vols practice it on air. Practice paid off, though, for a memorable play.
WHAT IT MEANS
Somehow, some way, Tennessee is in firm control of the SEC East division race after wins against Florida and Georgia and consecutive weeks. The Vols will need two-game cushion on the Gators and the three-game lead on the Bulldogs with Texas A&M and Alabama looming. Tennessee certainly has mistakes to fix, but these Vols just keep finding ways to win games when it appears unlikely.
BY THE NUMBERS
62: Tennessee has trailed by a combined 62 points in four of its five games this season and won every time. The Vols trailed Appalachian State (13-3), Virginia Tech (14-0), Florida (21-0) and Georgia (17-0) in the first half and rallied each time. The resiliency and never-say-quit attribute of this team is impressive, but Tennessee can't afford slow starts and more deficits.
1998: Tennessee's last 5-0 start came in 1998, when the Vols would go on to finish 13-0 and win the national championship.
41-10: Tennessee's first-quarter struggles continued on Saturday as Georgia left the first frame with a 7-0 lead. The Vols have been outscored by a whopping 31 points in opening quarters in their five games this season. The slow starts, on both sides of the ball, continue to be a major issue for Tennessee, which outscored opponents 130-52 in the first quarter in 2015.
109: In the second half Eason had touchdown passes of 50 and 47 yards to Isaac Nauta and Riley Ridley. On Georgia's other 33 plays after halftime the Bulldogs had just 109 yards (3.3 yards per play). Other than the big plays Tennessee's defense rose to the occasion in the second half, recording a key fourth-down stop, forcing a three-and-out following an interception forcing two fourth-quarter turnovers and scoring a touchdown.
1995: The Vols last beat ranked opponents in consecutive weeks in 1995, when sophomore quarterback Peyton Manning led Tennessee to wins against Arkansas and Alabama in early October. Tennessee beat ranked opponents in consecutive games in 1998 and 1999, but with open dates in between. The Vols beat three ranked opponents in a row last in 1991.
Contact Patrick Brown at pbrown@timesfreepress.com.
Photo Gallery
Finish a punch in the gut for Bulldogs