Photo Gallery
Finish a punch in the gut for Bulldogs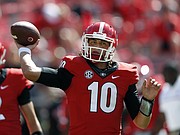 Whether it was the 2012 Southeastern Conference title game against Alabama, the 2013 "Prayer in Jordan-Hare" versus Auburn or the 2014 overtime loss to Georgia Tech, the Georgia Bulldogs did not lack for heartbreaking losses during the last few years of the Mark Richt era.
The first gut-wrenching setback of the Kirby Smart era took place Saturday.
After grabbing a 31-28 lead against Tennessee on a 47-yard touchdown pass from Jacob Eason to Riley Ridley with 10 seconds remaining, the Bulldogs allowed a 43-yard touchdown pass from Josh Dobbs to Jauan Jennings on the final play. There were those who relived the bang-bang ending Sunday and will continue to do so this week, but Smart must regroup his Bulldogs (3-2, 1-2 SEC) before heading this week to South Carolina (2-3, 1-2).
"It doesn't change," Smart said. "It's like I told them in the locker room, 'Nobody is going to feel sorry for you next week. You've got to go practice, be physical and do it just like you did this week, because you're going to get their very best.'
"You have to go play each week in this league. It's never over."
The Bulldogs fell out of the top 25 following their second straight loss, so this will be the first Georgia-South Carolina game without a ranked team since 1997.
Will Muschamp's Gamecocks opened this season with a 13-10 win at Vanderbilt but then lost 27-14 at Mississippi State. They improved to 2-1 by beating East Carolina 20-15 but have lost the past two weekends to Kentucky, 17-10, and Texas A&M, 24-13.
Muschamp inherited a program that reached historic heights under Steve Spurrier, with the Gamecocks going 33-6 from 2011 to 2013, but they bottomed out at 3-9 last year.
"My job is to win games, and that's what I look at regardless of the circumstances," Muschamp said Sunday night. "Nobody wants to hear about why you can't do something. They want to know why you did it. That's your job as a coach.
"It's been disappointing with some of the injuries at key positions knowing that going in we couldn't have those things happen. That's been the most disappointing part, because it hasn't let us improve in some areas, but injuries are a part of our game."
Muschamp has seen the Tennessee-Georgia finish and said he went through a similar situation as LSU's defensive coordinator under Nick Saban in 2002. Needing a win over Arkansas in Little Rock to claim the SEC West, the Tigers led 17-7 entering the fourth quarter and were up 20-14 with 40 seconds remaining and the Razorbacks 81 yards away from the end zone without any timeouts.
The Razorbacks won 21-20 on a 31-yard touchdown pass from Matt Jones to DeCori Birmingham.
"Matt Jones was 4-of-18 going into that drive," Muschamp said. "It's hard from the standpoint of being at the point where you've played well enough obviously to win the game and you feel like the game is in hand. Then a play like that happens.
"I know they've practiced that situation every day on Thursday, because we all come from the same school. Sometimes those things happen, and it's very frustrating, but you have to be technical in your approach and not get emotional about it."
Smart believes the Bulldogs learned a valuable life lesson in Saturday's game, pointing out how players will experience losses in their personal lives. He added they will be able to respond better as a result of what transpired inside Sanford Stadium.
At the very least, Georgia learned that it was a much better team against Tennessee than it was at Ole Miss the week before.
"This is a heartbreaking loss, and we didn't finish the right way," senior defensive back Maurice Smith said, "but we took a tremendous step forward to being the team we're looking forward to being. This is something we can definitely build on."
Contact David Paschall at dpaschall@timesfreepress.com or 423-757-6524.