Photo Gallery
CFC women finally win at Finley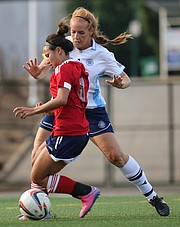 What looked like a potential stalemate between the Chattanooga Football Club women and Nashville Rhythm FC turned into CFC's first home win this season.
All it took was a penalty kick in the 82nd minute Sunday night at Finley Stadium.
Lizzy Shaughnessy converted the kick by putting the ball in the bottom left corner of the net, and CFC held on to win 1-0.
"The (penalty kick) was a bit of a fortunate call for us," CFC coach Erin Lycan Ridley said. "But I thought we created other chances, and that is what I am proud of."
It's the first home win in three tries this season for CFC (1-2-1) and came eight days after a 2-0 loss in Nashville. Ridley pointed out a difference in the two matches against Nashville.
"You could see in the second half, what we were trying to do in the first half, was get a rhythm of play," Ridley said. "Last time in Nashville, they were able to interrupt our rhythm a lot and (tonight) we were able to get it back, which is what you saw in the second half."
Ridley said that means CFC was able to recognize Nashville's offensive patterns and make better, organized decisions on defense. It also helped that CFC had a lot of fresh legs coming into the match, making nearly 30 substitutions.
"We have a very deep team, so we have a lot of depth at every position" Ridley said, "so with the intensity that this group plays with and with the unlimited substitution rule, the tempo of the game gets skewed a little so that you can't wear players down, because the other team can make free substitutions, too.
"Our philosophy is to keep players as fresh as possible and use the depth that we have at every position, and I think you saw that come out tonight."
CFC, which had been outscored 8-4 going into Sunday's match, returns to competition against the Gulf Coast Texans next Sunday in Pensacola, Fla.
"It is really satisfying only because we did a very good job of applying what we have been working on," Ridley said. "Honestly, even if we would have lost, I would have been pleased with what we saw."
Bonus for CFC fans
A busy stretch of home dates for the CFC men is set to continue with Tuesday's match against the Birmingham Hammers, and fans have been given extra incentive to come out to Finley Stadium for the 6:30 p.m. start.
Free admission.
The National Premier Soccer League Southeast Division meeting is a resumption of a match that was stopped on account of lightning on May 20. It will pick up in the 24th minute with CFC leading 1-0 - Felipe Antonio scored in the 12th minute - and will offer the host club a chance to earn back-to-back wins for the first time this season.
Plus it will offer fans a chance to see free soccer.
CFC beat Inter Nashville FC 2-1 on Saturday night, two days after a 1-1 tie against the New Orleans Jesters at Finley. CFC is 3-1-4 overall and 2-0-4 in the division, and Saturday's win was crucial as CFC tries to move up in the standings as the season moves into its second half.
"Our fans have been so good for us this season that we wanted to do something for them in this tough spot," Chattanooga FC general manager Sean McDaniel said in a team release. "We're coming off a huge win, so we could use some cheering fans to help us earn another one late in the season."
CFC beat Birmingham 2-0 on the road on June 8.
The club will host FC Carolina United on Saturday and Memphis City FC on June 28, both with 7:30 p.m. kickoffs, to complete a run of five straight home matches. A July 1 match at Inter Nashville FC will be followed by a July 4 match against the Georgia Revolution at Finley.