Photo Gallery
No longer a dream: Howard plays on home baseball field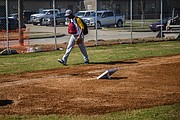 With less than an hour to go before the season's first pitch, the scene outside Howard's new high school baseball field was a beehive of activity. The list of things still to be done far exceeded the time available to accomplish each chore, but just as they've done for the better part of two months, everyone involved simply got to work.
Ringing cellphones were ignored as coaches and volunteers were busy dragging the infield, installing temporary bleachers and setting up portable heaters and metal folding chairs behind home plate. Bundled in heavy coats, scarves and gloves, other folks positioned a large table that would serve as the concession stand, complete with hot dogs, barbecue sandwiches and plenty of candy bars and drinks.
And after all of that last-minute hustle Wednesday afternoon, when Juwun Hill stepped onto the mound and fired a first-pitch strike, for the first time in seven years the Hustlin' Tigers baseball program finally had a place to call home.
"This field used to just be a football practice field," senior Vincent Bowling said. "To look around and know all the hard work we've put in and all the people who helped in a lot of ways, it feels great to know that we've got a home field.
"We can play games right here and have people we go to school with come out and watch us. All the hard work was worth it, and that's what makes today extra special."
Talk about seeing a diamond in the rough. When first-year Howard coach Jon Johnson was hired last summer, he looked over an empty field filled with rocks and weeds and saw the potential for something the baseball program and the Howard community could be proud of.
Johnson, a 31-year old pastor's son, had grown up playing the game and later began coaching as part of his missionary work in the Dominican Republic. That's also where he felt a sense of purpose in working with underprivileged kids.
So after five years at Lookout Valley Middle School, Johnson jumped at the chance to take over Howard's varsity program, despite the fact there weren't even enough players to field a team. After coaxing a few from the hallways and classrooms to join, Johnson then turned his attention to the next phase of his plan.
"It's all about these kids," Johnson said as he unloaded cases of soft drinks and candy for the concession stand just minutes before the start of the game. "For us to build this program to where we want it to be, I knew we needed to have a home field; something the kids would be proud of. The only way I knew to do that was for all of us, players, coaches and anybody else willing to get to work."
In the span of eight weeks, Johnson and 18 players - seven who had never before played baseball - worked 12 to 14 hours each Saturday and Sunday to resurrect the school's field and baseball program. Once word spread about their efforts but lack of funds, everyone from local businesses to opposing teams began pitching in with materials, equipment and time to help get the field playable by opening day. There were even enough financial donations to begin building home and visiting dugouts, which should be completed this season.
So despite Wednesday evening's 40-degree chill and biting wind as the game began, the payoff was simply the fact that the Hustlin' Tigers were able to host parents, students and community supporters on campus to cheer them on against Central.
"I know sports are about competition, but really this first home game for us was more about seeing what happens when a whole community comes together and works for something," senior Torry McComb said. "This is going to be something that years from now we can come back to, look around and tell people we were a part of getting this built. It makes you feel proud to see what we can have."
As for the competition, the much more experienced and seasoned Purple Pounders swept the doubleheader. But even Central coach Glen Carter admitted something about the atmosphere was different.
"We were ahead, but their guys kept fighting and playing hard," Carter said. "We've got everything you could ask for as a program - a long tradition, indoor hitting facility and a great field to play on - so it was really good for our kids to have a chance to see where it all starts and to know that hard work really pays off.
"This is going to be a really nice field, and I'm sure they'll get more interest from other kids to help build their program and get better. They should be really proud of everything they've already done here."
Contact Stephen Hargis at shargis@timesfreepress.com or 423-757-6293. Follow him on Twitter @StephenHargis.