Photo Gallery
Bridges shines, but UTC falls short against The Citadel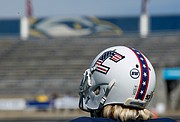 The University of Tennessee at Chattanooga football team put together its best performance of the season Saturday afternoon at Finley Stadium.
It still wasn't enough.
The Mocs took a seven-point lead into halftime, but The Citadel scored 13 points on its first three second-half possessions and forced a late turnover for a 20-14 Southern Conference victory.
Falling to 1-7 and 1-4 in the league, UTC plays the next two Saturdays at 14th-ranked Samford (5-2, 3-1) and fifth-ranked Wofford (6-1, 4-1).
The Mocs got the ball with 3:18 to play and were able to drive to the Citadel 11, but then came two Cole Copeland throwaways, an incomplete pass for Alphonso Stewart in the end zone and a fourth-down interception by Aron Spann III.
"If we're a second quicker, we had a touchdown. That's on me," said freshman Copeland, who threw for 56 of his 155 yards on the last drive. "We gritted it out. The offensive line played unbelievable, Darrell (Bridges) played unbelievable and the defense played unbelievable, but little things like me throwing the interception on a deep ball, I've got to clean it up."
Copeland was 17-for-31 with three interceptions. Stewart hauled in four catches for 33 yards, and Bingo Morton netted 56 yards on three receptions.
Bridges rushed for a season-high 149 yards and both UTC touchdowns on 18 carries, including a 61-yard run that covered more yards than the Mocs totaled on the ground in each of four games this season. He added a 1-yard score in the second quarter. UTC's 143 rushing yards were the second-most allowed all season by The Citadel, which entered the game leading the SoCon, and Bridges' total was the most a single ball carrier has had all year against the Bulldogs.
It was the best rushing game of the season by the Mocs, who averaged 7.5 yards per carry. They rushed for 148 yards in their win over Virginia Military Institute on Sept. 23, but that came on 44 attempts.
"I think that's an area we really worked hard on," UTC coach Tom Arth said of the rushing attack. "We spent a lot of time in the run game this week, and we were able to do some things out of different personnel groupings that we felt gave us an advantage."
The defense, while giving up 405 yards rushing, did a good job in the red zone, holding the Bulldogs to a field goal and a touchdown in three penetrations inside the 20. The visitors gained 227 of their rushing yards in the second half, aided by a plethora of missed tackles that led to big gainers, including a 45-yard run by Grant Drakeford that led to a touchdown and a 54-yarder by quarterback Dominique Allen that led to a field goal in the fourth quarter.
"We have to not have those plays we give up here and there on both sides," said linebacker Tae Davis, who had eight tackles, including 2.5 for lost yardage. "We had a couple of missed assignments and we can definitely work on that; at the end of the day it's still things we did.
"But I'm pretty pleased with the performance today."
But it "wasn't good enough," according to Arth.
"We came up short," the coach said. "We had a chance there at the end. It should have never come to that. We did a lot of really good things and made a lot of improvements, but in the end it was not good enough."
Taylor Reynolds had a career-high 12 tackles, with 1.5 for loss. Dale Warren, Isaiah Mack and Michael Bean had seven tackles each, whilefreshman D.J. Jackson, who started at cornerback, made six stops.
In addition to quarterbacks Alejandro Bennifield and Nick Tiano missing their third consecutive game, running back Richardre Bagley, linebacker Tavon Lawson and defensive backs Trevor Wright, Kareem Orr and Markell Boston were out.
Contact Gene Henley at ghenley@timesfreepress.com. Follow him on Twitter @genehenleytfp.