Photo Gallery
Sweet Tweets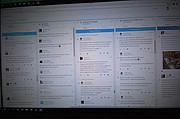 Parting with one of the Little Debbie snack brands would be such sweet sorrow.
But when a McKee Foods intern from Southern Adventist University was trying to capture social media attention for the snack cake bakery last year, he facetiously poised such a threat with a four-word tweet - "One gotta go forever" - along with photos of Little Debbie's oatmeal cream pies, Christmas tree cakes, nutty buddy bars and Honey buns.
The tweet generated lots of attention (over 23 million impressions) and highlighted the loyalty of those who buy the Little Debbie snacks and who have helped propel McKee Foods into America's biggest privately held snack bakery with nearly $1.5 billion in sales expected this year.
But the Twitter hashtag #OneGottaGo also sparked erroneous fears that McKee was about to kill off one of its popular snacks. That brought lots of questions from retailers and distributors.
Although similar games and choices are common on the Internet to invite choices among favorite singers or sports teams, fans of Little Debbie were caught off guard by the tweet. Many, including several television news outlets, actually thought that McKee Foods might be preparing to pare its snack lineup.
"So help me if you take away my Christmas tree cakes, my life would be meaningless!" Amanda McMann, aka "Singing Bunny" tweeted in response. Another woman took the threat literally and said she began stocking up "in case the honey bun leaves."
Mike Gloekler, corporate communications and public relations manager at McKee, quickly tried to dispel rumors that some snacks might be abandoned by the company.
"Social media participants were enjoying the game and having fun, but the traditional media saw this and panicked and started contacting us to see if we were going to take away people's oatmeal creme pies," Gloekler said. 'This was both painful and thrilling to see the response, but it forced us think and grow as a company in our social media approach."
Bryant Rodriguez, the 24-year-old intern who created the twitter question, says the response was a bit overwhelming, even for one trying to get the attention of the Twitterverse. As a young college graduate who had just gotten married, Rodriquez wasn't sure how the attention would be greeted - and what some of the negative responses might mean for his quest to land a job with one of Hamilton County's biggest employers.
For the traditionally staid and conservative McKee Foods, the social media campaign marked a new marketing frontier for a brand created in 1960 from the namesake and granddaughter of McKee Foods founders O.D. and Ruth McKee. The Norman Rockwell-like image of Little Debbie in her straw hat has been tweaked through the years, but its roots are in a pre-Internet, pre-Twitter era. Her smiling face has adorned millions of packages of Swiss Cake Rolls, Cosmic Brownies, Zebra Cakes and other sweet treats for the past 58 years, making McKee one of the best known snack brands in America.
Ultimately, Rodriquez was hired earlier this year as McKee's first full-time digital and social media strategist to help continue to build the McKee brand in the digital era. From inside a new social media hub near the entrance of a 60,000-square-foot corporate office expansion added last year, Rodriquez and David Blair, marketing and advertising specialist for McKee, strategize about how to use and respond to social media to both expand and protect the iconic Little Debbie image.
"There is a lot of uncharted territory here that we are trying to map out," Rodriquez says. "With the way that social media works now for brands, you really need someone there full time because it is so important to take care of people's interest in engaging with your brand and business."
McKee already has more than 2 million followers of its Facebook site and more than 180,000 followers of its twitter account.
How do you bring an iconic and somewhat old fashioned image and namesake into the Twitterverse?
Rodriquez and Blair decided to focus on McKee's wholesome, family values - which they readily admit is a challenge in a medium often overwhelmed by snarky and cryptic comments.
In February, the company began giving its Little Debbie brand a voice on the Internet. Little Debbie took to Twitter on President's Day to belatedly address a previous holiday five days earlier - with a message about staying true and being happy regardless of your love status.
"Valentine's Day has ended & perhaps it as an amazing time filled with bliss or perhaps it was a quiet time spent alone. But you know what? Either one of those are OK. Never attach your value & worth as a person to your relationship status. Love, Little Debbie."
The tweet got nearly 20,000 likes from those thinking about love, life and relationships
Simon Dumenco, the "Media Guy" columnist for Ad Age, said he and others were a bit confused but impressed by the sage advice offered by a young girl figure photographed more than a half century ago.
"This is confusing for a number of reasons," Dumenco wrote in Ad Age. Also, "Little Debbie is, what, 9 years old and already she's this wise?
Little Debbie's new voice has also been successful in engaging other brands, including MoonPie, Wendy's, Pop Tart and others, in twitter games.
"I think we've shown that you can be wholesome and relevant," Blair says.
Blair said McKee, like most businesses with a high-profile brand, try to monitor discussions and mentions of Little Debbie and other McKee products across Facebook, Tweeter, Instagram and other social media. McKee also publishes material regularly on its own social media outlets to shape and promote its products and brands, letting users know about new or seasonal products, promotions and special events.
To ensure success, Blair said the company also tries to monitor and measure the results of its efforts. Those results are displayed in real time at the Hub, a new room the company added last year to display eight different computer screens of activity at a single time.
"We continually want to measure the engagement we have across our social media platforms to see what works and what we can do better," Blair says.