Photo Gallery
Pearl 5/17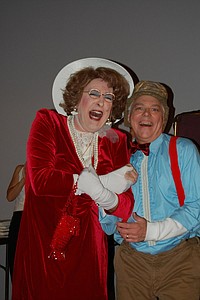 Holding an unconventional ceremony at an unconventional venue, Terrell Owens went unconventional.
The former University of Tennessee at Chattanooga and NFL wide receiver started asking people to stand up Saturday afternoon at UTC's McKenzie Arena, pointing out different circumstances that may have applied to their lives - misunderstood, lonely, etc. By the time he was done, nearly all 3,000 in attendance were on their feet.
"Don't be afraid to be you," Owens said. "I celebrate and empower you today."
Owens was certainly celebrated in Chattanooga on Saturday, the same day the Pro Football Hall of Fame inducted its newest class in Canton, Ohio. Owens was part of the group, though he did not attend after he was voted in during his third year of eligibility.
After Owens' speech at UTC, school chancellor Steve Angle and vice chancellor and athletic director Mark Wharton announced Lansing Court on campus will now be named "Terrell Owens Way."
The first living new Hall of Famer not to attend the traditional ceremony in Ohio, Owens thanked seemingly everybody during his 40-minute speech. He spoke to his reasoning for not going to Canton ("The sports writers weren't in alignment with the meaning of the Hall of Fame"), and he thanked his teammates, his family - getting emotional while talking about his late grandmother - and former coaches.
"They say behind every great man is a great woman. Well, I had two," Owens said of his mother, Marilyn Heard, who presented him with his jacket, and his grandmother, Alice Black, who died of Alzheimer's disease in 2012.
After thanking each set of people, he would tell them, "This is for you."
Owens had a 15-year NFL career in which he amassed 1,078 catches, 15,934 yards and 153 touchdowns while playing for the San Francisco 49ers, Philadelphia Eagles, Dallas Cowboys, Buffalo Bills and Cincinnati Bengals. He said that while a lot of people seem to believe he will regret holding his ceremony at a place other than the typical venue, he wasn't going to feel that way.
"People say I may regret not being in Canton (today) 10, 15, 20 years from now, but I choose not to live in regret," he said. "I will leave a legacy that will leave an imprint on this world forever."
Owens, who was drafted in 1996, did not return to UTC until homecoming of the 2015 season, but he has been back at Finley Stadium the past three seasons for the celebration. He said that during his NFL playing career, he became so consumed with "being the best" that the thought of coming back just never really happened.
"When I left Chattanooga, I had no idea what I could become and what was going to happen," Owens said. "Once I started to get a glimpse of what I could become on the football field, I really immersed myself to become the best athlete I could be. All I ever wanted to be and to do is to not be mediocre. In high school I wasn't the best, in college I wasn't the best, so all my peers around me, I watched them on the sidelines make big plays, and once I got a taste of what it felt like, I immersed myself into the craft and the coaches that helped mold me into the receiver I became along the way.
"I just got lost in trying to be the best I could be, and it wasn't until I made it back and was walking around the campus, and I saw and felt the love and the impact I'd made over the years. Now, every time I come back, it feels like the first time."
He was one of seven players inducted Saturday. Contributor Bobby Beathard, linebacker Robert Brazile, safety Brian Dawkins, guard Jerry Kramer, linebacker Ray Lewis, receiver Randy Moss and linebacker Brian Urlacher were inducted late Saturday evening in Canton.
Contact Gene Henley at ghenley@timesfreepress.com. Follow him on Twitter @genehenley3.
Tweets by genehenley3