Photo Gallery
The Flock: A house full of music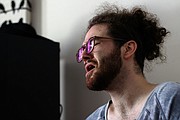 Seated at the desk in front of a laptop, Jared "J-White" White's attention is split between listening to the tracks that he'd recorded earlier in the studio and keeping up with his 18-month-old daughter, Samia. Her job for the day seems to be figuring out whether it is better to be sitting in the chair next to daddy or walking around it.
It's an all-consuming exercise that occupies them both as she tries out each option in 10-second intervals. Up. Down. Up. Down.
Fellow musicians and housemates Johnny Smathers, Phil McClaine and Elijah Daxx all roll by at differing times to say hello before heading off to other parts of the house to work or just get their day started.
"Things usually get going about 10," says Eric Cromartie, who is sitting on a white leather couch in the basement studio watching the activity.
Cromartie co-owns the house with his mother, Jenny, but more importantly, he manages the house and the careers of the seven full-time musicians known as The Flock who live there. Another two or three musicians can often be found living in the space at various times as well.
It's almost noon and the house is relatively quiet, though there is activity. Upstairs, Matt Lowe is sitting in the living room next to a piano strumming a guitar. Outside, next to the carport, Daxx is working out the details of a video he's shooting with artist Paul Stallings and interpretive dance Selena Ferrar.
Swayyvo, whose room is next to the studio, is in Detroit performing, and Tyler Martelli is off working on another project at the moment. Martelli recently joined Strung Like a Horse, a local band that just signed a recording contract with Transoceanic Records.
Johnny Balik, a pop/hip-hop singer is a former Flock housemate and Cromartie client who does much of his recording and creative work with the Flock members.
Like in most houses, the day begins with someone making the first pot of coffee.
"We drink a lot of coffee," Cromartie says.
By about 11, most of the seven to nine guys living in the house are moving about, and someone is usually in the basement studio by then, working on a new song. Today it is White.
"He is like the spinal cord of everything," Cromartie says. "He's a great producer and drummer and bass player. He plays everything really."
Swayyvo is another multi-instrumentalist within The Flock and says, "Jerod can make anything because he plays so many instruments. But really, with all of the talent in the house, I feel like there is almost no genre we can't produce."
It's not unusual for musicians or artists to share a house, but usually they are all members of the same band. The Band, for example, famously lived together in the late '60s in what became known as Big Pink, a distinctively painted house in West Saugerties, New York. What's different perhaps about Cromartie and crew is that none of the seven housemates are bandmates - in fact, they play different styles of music.
They do collaborate quite a bit, and there is some crossover, however. McClaine is an R&B singer. Smathers is more hip-hop singer/songwriter-oriented. Swayyvo is a sax player who produces and raps. Like J-White, Martelli is a multi-instrumentalist. Daxx is a hip-hop/pop artist.
This is actually the third house that Cromartie has managed with The Flock and the first that he has owned. It is a 3,000-square-foot home in East Ridge with six bedrooms situated in three stories. It sits on a secluded 1 1/2-acre lot on a hill with peach trees and a couple of gardens. Cromartie is especially proud of his gardens.
The group moved into the house in October, and since then, Lowe, the handyman of the bunch, has converted part of the garage space into a bedroom, bathroom and studio, which continues to get more use by The Flock.
"Since the studio has come online, the amount of music being made has skyrocketed," Cromartie says. Each artist has contracted with Cromartie to manage them, and he has enlisted the services of Ditto Distribution in Nashville to distribute their songs, but they are not under one label. Individual songs are released digitally through online services, such as Soundcloud and iTunes, and promoted on various social media platforms.
In July alone, McClaine and Swayyvo alternated releasing new music each week. This past week, Swayyvo released "
"And we'll continue the floodgates of music entering the world from there," Cromartie says.
A carport out back will eventually be converted into more space for creating music and videos. Most of the seven full-time tenants have lived in all three of The Flock homes, which speaks to the seriousness of all involved. This is not a crashpad where young men live to party and pay cheap rent.
"It is very fulfilling," Swayyvo says. "It's constant creativity flowing throughout the house. There is always somebody creating something, and it keeps me on my A game. Everybody has such a strong work ethic."
Cromartie says that work ethic was paramount when selecting who could live and work there, and Swayyvo says everybody respects everybody else when it comes to keeping the house clean and working together.
"We do a good job of keeping the house clean. A cluttered space is a cluttered mind, and everybody understands that."
Since moving into the new house, dinners have become a communal event as well. Cromartie says one of the best purchases they made was a gas grill. He's looking at getting a freezer next and said everybody contributes to groceries, though he usually brings something home for dinner each afternoon.
"Squad meals are big," Cromartie says. "Eating together and making sure everyone is well-fed is important. We eat a huge meal, and then people go off and write. Yesterday we were grilling like it was a sport."
For most of the musicians in the house, making music is their full-time job, and living in the house allows them to do it whenever they want. In the past, each either worked and recorded in their own rooms, or they went to outside studios. Though the house is still in transition, the studio is up and working, and each of the seven either recently released new music via online streaming platforms or will in the coming weeks.
"Everybody is either making their living with their music or transitioning into making money from it," McClain says.
Contact Barry Courter at bcourter@timesfreepress.com or 423-757-6354.