Photo Gallery
Big Stack at Ya Yas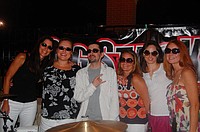 Do you love 80's rock? It seems a lot of people do. Big Stack packed the house at Ya Ya's Euro Bistro on the east end of The Promenade at Chenal.
The city of Chattanooga has set a goal of adding 1,000 high-quality, early-learning seats for children in the city, and while much of the attention has been centered on how to better serve children in their early years, officials are also focused on how to better serve the providers who take care of them.
Mayor Andy Berke's "1,000 Seats" initiative aims to add several seats by 2021, but it also proposes to make the ones currently available higher quality by offering more resources for child care providers and workforce development.
"It's not just manufacturing where another certificate can make you earn more money and therefore build your life," Berke said in an interview Thursday. "When people develop themselves professionally, they earn more money and then that's good for our city because unfortunately these are often workers at the lower end of the income scale."
For the 2018-19 fiscal year, the city has allocated $800,000 more to the city's Office of Early Learning, which is led by Ariel Ford, to help increase wages for child care workers, staff "navigators" who will work with corporations and smaller child care providers to better address their needs and more.
Tennessee uses a three-star, quality-rating system for child care centers in the state with three stars representing higher quality standards and one star representing the minimum standards.
Out of the roughly 200 licensed child care providers in Hamilton County, about 85 have a three-star rating, according to the city.
"What we know and what research shows is that very high-quality child care is what makes a difference in children's lives," Ford said. "We are trying to be more mindful at figuring out what the actual needs of the community are rather than just asking once and pretending that we know."
Since Berke took office, the city has started programs such as Family Connects, Baby University and expanded the federally-funded Head Start and Early Start programs.
On Thursday morning, City Council Vice Chairman Erskine Oglesby, Jr., councilman Anthony Byrd and Berke visited the Avondale Head Start Center, which is the largest one in the city and serves 195 children ages 2-4.
While the 1,000 new seats added in the city won't be Head Start seats for low-income families, Ford said it's an advantage that the city oversees the federal program.
"We want to use (Head Start) as kind of a training ground and really look at the resources that Head Start knows works for children and families and see how we can share those across the community," Ford said.
The city is also working closely with stakeholders in the community, including Chattanooga 2.0, which has set the goal of boosting the percentage of students entering kindergarten ready for school from 40 percent to 80 percent by 2025.
"All of these and more are about building out not just one particular initiative, but a system-wide support," Berke said. "The city can't and shouldn't do it alone. We need lots of different people involved in the process."
Henry Schulson, executive director of the Creative Discovery Museum, said the city's efforts to increase early childhood education helped the museum and the Tennessee Aquarium land a $103,000 grant that will help early child care providers in Chattanooga and the Southeast receive training to become more literate in science, technology, engineering and math (STEM) concepts.
The year-long grant from the Institute of Museum and Library Services will start in October and will allow the two organizations to create an advisory team of stakeholders from the Chattanooga area. The aquarium and museum will then be able to better understand what resources educators need and how a professional learning center might help them.
Brooke Gorman, the aquarium's director of science education, said in a statement that STEM skills can really help shape the way children think and solve problems even before reaching elementary school, but the National Association for the Education of Young Children reports that less than five percent of preschool activities are related to STEM.
Gorman said that kids who have grown up understanding STEM thinking will have the skills needed to participate in a 21st-century workforce.
"They'll know how to solve problems and know how to think through something to get an answer," Gorman said. "In the long run, that will really help Chattanooga become a more desirable location for companies because we'll have a generation of people who know how to do those things."
Contact staff writer Allison Shirk at ashirk@timesfreepress.com, @Allison_Shirk or 423-757-6651.