Photo Gallery
Traditions Left Behind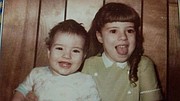 Holiday traditions are built on memories: Grandma fixing up a pecan pie like only she can; Grandpa reading holiday stories by the fire; Uncle Larry dressing up as Santa while you and your cousins pretend to believe he's the real deal.
But what happens when those loved ones pass away? Celebrating the holidays after a death in the family is bittersweet, but keeping their memories - and traditions - close can bring much-needed peace this time of year.
Here, locals share stories of their departed and show how remembrance can bring new meaning to the season.
The Merged Tradition
For Michael Hankins, 48, special occasions have always been tinged with tragedy.
The