Photo Gallery
Miller Park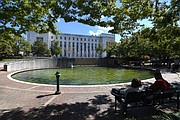 After 14 months of renovation, Miller Park will reopen on Friday, Sept. 14, with a full day of fun and music after the traditional ribbon-cutting.
The downtown park's $10.6 million face lift was paid for with public and private funding. The total area of the redesigned park is 78,522 square feet, with 25,500 square feet of that in green space or lawn, according to Richel Albright, communications director in the office of Mayor Andy Berke.
Not only does the new design offer more space for events, it includes a new performance area. The old band shell has been replaced with the brick EPB Community Stage, which features large glass doors across the front that can enclose the space when used for meetings or be left open for concerts.
The grand reopening will begin with a ribbon-cutting at 11 a.m. Mayor Berke will be joined by Sen. Bob Corker, EPB President David Wade, River City Co. President Kim White and BlueCross BlueShield of Tennessee President J.D. Hickey.
In addition to entertainment by local musicians on the EPB Community Stage and Miller Plaza Stage, there will be performance artists such as Dollies of Fire Troupe, Veridian Bellydance of Movement Arts Collective, The Jugglers Assembly, aerialists as well as an interactive LED light installation by The Enterprise Center and Cha Art/Dev.
Food trucks will be parked around the downtown block.
Here's the schedule for what's on tap after the ribbon-cutting:
11:30 a.m. Carlos Colon & His Tropical Swing Band
12:45 p.m. Hip Hop Cha
2-6 p.m. Play in the Park
2 p.m. Big Clue Blocks with Art 120
2:45 p.m. Storytime with Chattanooga Public Library and Biblioburro mobile library
3 p.m. Soccer with Operation Get Active
4 p.m. Color Your City with 800 Collective artists Josiah Golson and Mary Ann Twitty
4 p.m. Sidewalk Stages with SoundCorps
6-8 p.m. Miller Plaza Market
6:10 p.m. East Lake Expression Engine
6:15 p.m. Hive Theory
7:15 p.m. Ogya World Music Band
8:30 p.m. Mayor Andy Berke remarks and introduction of headliners
8:30-10 p.m. The Power Players featuring Voices of The Creative Underground, Willie Kitchens, Amber Carrington and more
For more information: www.facebook.com/events/1820962667959492.
Miller Plaza Market
Between 6 and 8 p.m. Friday night, 21 vendors will sell and demonstrate their products in the Miller Plaza Market. They include:› Good Fortune Soap & Spa› Locals Only Gifts› Elea Blake cosmetic studio› Lost Art Design› Nooga Paws› Alko-hauler› Alecia Vera› Fox & Fern› 423 St. Francis› Southerly Flower Farm› Peet's Coffee› The Cupcake Club Inc.› Antibes› Forman Pottery› Savon Domingo Soap› Dish T' Pass› 3weebirds› Spun Jewelry› Ayelet's Style› The Art of Jaime Barks› Calamansi Cafe