Photo Gallery
Meet the chef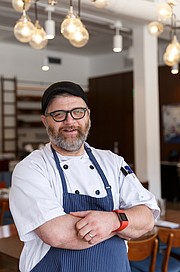 Matt Bray, executive chef at Alimentari, located in downtown Chattanooga's trendy West Village, first realized he wanted to be a chef at a young age.
As the oldest of three children growing up in Washington state, he'd often help his mother, who was handicapped, in the kitchen. "If we wanted to eat, that was required," he recalls.
"The old red-and-white Betty Crocker cookbook was our best friend," he says of himself and his siblings. "My early teen years were rough, to say the least. I got into drugs pretty early and was not a fan of school. I dropped out halfway through my freshman year of high school and, at the age of 15, I found a job dishwashing at the Calico Cupboard to feed my habits."
Two