Photo Gallery
Meet the chef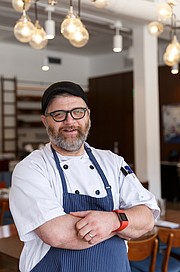 Matt Bray, executive chef at Alimentari, located in downtown Chattanooga's trendy West Village, first realized he wanted to be a chef at a young age.
As the oldest of three children growing up in Washington state, he'd often help his mother, who was handicapped, in the kitchen. "If we wanted to eat, that was required," he recalls.
"The old red-and-white Betty Crocker cookbook was our best friend," he says of himself and his siblings. "My early teen years were rough, to say the least. I got into drugs pretty early and was not a fan of school. I dropped out halfway through my freshman year of high school and, at the age of 15, I found a job dishwashing at the Calico Cupboard to feed my habits."
Two years later, he found himself in the kitchen at another restaurant, Country Corner, where early celebrity chef Graham Kerr stopped in.
"I was cooking breakfast there, and Kerr came in one day and told me how great my omelets were. Then my kitchen manager, Kandy Paskowski, and her sister told me who he was, and a dialogue about food history started. I was hooked. I quit doing crack and focused all I could on learning more about food. I struggled with drugs for a few more years, but it would be that seed that would save me."
The restaurant opened in December at 801 Chestnut St. The name, Alimentari, simply means "food" in Italian. The restaurant is open for lunch and dinner, as well as weekend brunch. Quick service is the focus for the midday meal, and lighting and music help to turn the space into a big-city-style eatery at night. Pasta is made in house, and the full bar includes about 60 wines.
Here, Bray shares details of his culinary training, his favorite piece of equipment and the weirdest requests he gets from diners.
Q: What is your earliest food memory?
A: Frying fish, freshly caught from the Puget Sound with my grandfather.
Q: What about culinary school? Did you go?
A: No, but I have instructed several culinary interns. There are many times that I wish that I had gone to culinary school, and I highly recommend that people interested in this industry go to culinary school, but also that they find the best and hardest kitchen to work in while they are there and not simply wait for an internship to get their feet wet.
Q: Was your training difficult?
A: You cannot really train to be a chef; it is who and what you are that makes you a chef. Cooks are trained; chefs are forged. And, yes, it was difficult in a wide variety of ways to become the chef I am today. That is part of what makes it so wonderful.
Q: Is the menu at Alimentari traditional Italian, or do you put a southern American twist to it?
A: The menu here is designed so that if you've just come back from vacation in Naples or you are from Italy, you can find something familiar. In warm weather, our menu leans towards southern Italian cuisine; in the winter, it features some more northern Italian dishes. We strive to have dishes that are true to Italian ideas and concepts - foods that you might find in Italy. The key to that is that we source at great length the finest-quality ingredients, some imported from Italy and some locally. But wherever they come from, they are the best fit for that dish.
Q: What's the one piece of kitchen equipment or cooking tool you cannot do without?
A: A fish spatula.
Q: Is there a food that is your guilty pleasure?
A: It varies, but right now, it's boiled peanuts, pickled okra and fried chicken. but I'm also a fiend for black licorice.
Q: Complete this sentence: If I weren't a chef I would be
A: In prison - or worse.
Q: Do you ever get special requests from diners? And what is one of the strangest ones you've ever gotten?
A: Yes, I receive plenty of special requests, but the ones that are the strangest are when people want their food burned, which is actually difficult to do on purpose.
Q: Do you cook much at home?
A: Yes, I cook at home a lot when I am there and have the time.
Q: Would you share a recipe?
A: This is carbonara in its simplest form.
Simple Carbonara
4 ounces spaghetti
1 ounce diced pancetta
1 egg
Pinch of freshly grated parmesan cheese
Cook spaghetti to al dente stage; drain, reserving a little of the pasta water. Brown pancetta in a frying pan, and add the pasta, along with a little of the pasta water. Remove from heat, and quickly stir in egg. Toss with a pinch of parmesan cheese, and serve. Makes 1 serving.
Contact Anne Braly at abraly@timesfreepress.com.