Photo Gallery
Kellie Harper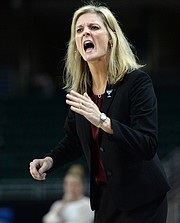 KNOXVILLE - New Tennessee women's basketball coach Kellie Harper walked into the Ray and Lucy Hand Digital Studio on Wednesday afternoon with a large folder in hand, her husband Jon beside her.
Their son, 5-year-old Jackson, sat on the front row in between the Lady Volunteers' Lou Brown and Kamera Harris, who will be seniors next season.
It was a whirlwind day that ended in Harper (formerly Jolly), who played for the Lady Vols and compiled a 131-17 record in four seasons with three consecutive national championships (1996-98), being formally introduced as the program's leader. She sat down at the podium, glanced to her left and noted the statue of legendary coach Pat Summitt - she of 1,098 wins and eight national championships - just outside.
"I can look right out this door and see a statue over there," Harper said, pointing. "That moment was not lost on me."
Still, Harper had been able to keep her emotions in check until earlier in the day when she was sitting in her new office and her 10-month old daughter Kiley came in, wearing an outfit with a Tennessee logo on it. Jackson was wearing a shirt with a Power T on it.
Suddenly, everything about being the head coach at her alma mater - her admitted "dream job" - set in.
"That was it for me, that was the moment," Harper said.
Harper steps into a program, seven years post Summitt, in dire need of an infusion of some energy, and Tennessee's hope is Harper will bring it. She follows Holly Warlick, who was fired after seven seasons in the shadow of Summitt with a record of 172-67. All of Warlick's seasons ended in the NCAA tournament, including three times in the Elite Eight.
After a 19-13 season in 2018-19 that included program lows such as a seven-game losing streak and the first home loss to Vanderbilt, Tennessee athletic director Phillip Fulmer fired Warlick. The Knoxville native had played for and later worked as an assistant to Summitt before officially taking over the Lady Vols in 2012, less than a year after Summitt revealed she had been diagnosed with Alzheimer's disease. Summitt died in June 2016.
Fulmer said he initially wanted to bring in simply "the best coach available," male or female, to replace Warlick. After some discussions within the athletic department, he realized Tennessee also needed to make sure it would be a Lady Vol heading the program.
He believed Harper was the best choice.
"It became very clear to me as the interview process started that we had our choice in the country of coaches to talk to," Fulmer said. "As we went through the grinding process - our staff did a grinding search - it became clear that a Lady Vol would be really great.
"Kellie knocked it out of the park."
Harper started her coaching career at Auburn as an administrative assistant in 1999 and became an assistant coach after one season. That led to three seasons at the University of Tennessee at Chattanooga, where she helped current North Carolina State coach Wes Moore to a 78-15 record during that time and the UTC women's program's lone win in the NCAA tournament, against Rutgers in 2004.
Her past 15 seasons have been spent as a head coach, at Western Carolina (2004-09), N.C. State (2009-13) and Missouri State (2013-19), with her overall record 285-208. Her teams have received five NCAA tournament berths and made seven Women's National Invitation Tournament appearances, and her final Missouri State team finished 25-10, falling in the NCAA's Sweet 16.
On Monday, Harper was named the Kay Yow award winner for 2019 as the top NCAA Division I women's basketball coach who also displays great character off the court.
Now she takes over the program for which she once played, something Harper said Summitt once told her she would probably do.
"I hope that Pat Summitt is smiling down today," Harper said. "I think about her often, and I know that's going to become more frequently here for a while. It's important for me to say that I'm not here to try to be Pat Summitt. I'm here to be Kellie, who learned from Pat Summitt, and hopefully you'll see that.
"I'm so excited to be home. When you give everything you have to a program and you have this opportunity, it's indescribable and extremely special. I'm ready to get to work."
Contact Gene Henley at ghenley@timesfreepress.com. Follow him on Twitter @genehenley3 or at Facebook.com/VolsUpdate.