Photo Gallery
The Real (Business) Women of Ringgold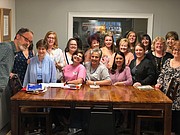 RINGGOLD, Ga. - Cindie Robinson-Patty was walking trails with her dog around Ringgold in January 2008, eight months after she opened her business on Nashville Street in the historic part of downtown in the small North Georgia town. She was not sure about whether her storefront business would succeed; she was not sure her previous experience renting spaces inside an East Ridge antique mall would be enough. An economic downtown was happening.
She saw part of a pink board sticking out from under a pile of brush. Patty pulled out a multi-colored, 3-foot board and on it were the words, "I am not afraid. I was born to do this." The message hangs above her door in the cluttered office of UnikTings!, a boutique specializing in custom embroidery located on two blocks on the right as you come past the Ringgold Depot.
"A couple of months later, I was in the back of the store and heard the doorbell ring," Patty said, "and a little old lady with hand warmers walked in. I ask if she needed help. She reached out and touched my arm and said, "I don't need anything, but I wanted to tell you that you are doing all the right things and you will be just fine.' She then turned and left. I saw her a couple of years later at a Chamber dinner and found out she was an important woman in Ringgold. I get goosebumps every time I talk about it."
The two blocks between Depot Street and Maple streets encapsulate the historic downtown and 22 storefronts. The CSX train that travels past the Ringgold Depot seemingly on the hour has been doing so since the 1850s and signals the entrance to the historic district. Five of the storefronts house professional service firms and one is vacant. Of the remaining 16 businesses, 14 are either owned or co-owned by women.
Ringgold Downtown Partners, an association formed by Patty along with business owners Raye Brooks and Joy Thornton in 2008, has 45 members; 32 of them are women-owned or co-owned businesses. There are women business owners in their 30s, 40s, 50s, 60s and three over 70 among the RDP membership.
"Something's going on," said Patty. "It's unbelievable the number of female-owned businesses here. I think it's wonderful. I love it."
Georgia No. 1 for female startups
Georgia was the No. 1 state in the nation for women entrepreneurs in 2018, according to the website fitsmallbusiness.com which tracks six criteria, including the percentage of small businesses owned by women. Georgia is first among the 50 states in the share of women-owned businesses with 40.5 percent of businesses owned by females. Georgia is eighth in the percentage of revenues from women-owned businesses, and seventh in economic clout.
"That's phenomenal to see," Ryan Waldrep, assistant commissioner for entrepreneurship and small business for the Georgia Department of Economic Development, said of the female dominance of the Ringgold Downtown Partners. "The catalyst for all that development goes back to that downtown association. It's one small step after another and before long you start seeing some great strides."
The strides made by the small haven of women-owned businesses in Ringgold stands in direct contrast to the "other Ringgold," which is located at Exit 348 off Interstate 75. The exit offers travelers commercial businesses traditionally seen an interstate exit. Three miles up the road is Exit 345; a three-mile drive on Highway 41 along South Chickamauga Creek brings you to the railroad trestle that signals the entrance to downtown.
None of this surprises Thornton, who opened Joy's United Gift Shop in 1998. She and her husband own the building just off Nashville on Tennessee Street. He operates Jessie Thornton's United Karate Studio. Joy is a fifth-degree black belt, and men around downtown know that.
"None of us know why this happened, why women own most of the businesses here," said Thornton. "But it happened, and it's been happening here for a while."
Brooks, owner of Ringgold Art and Frame on Nashville Street, is president of the Ringgold Downtown Partners since its bylaws were created in 2008. Patty is the current vice-president and Thornton the secretary. They have been officers since 2008.
Building on the Ringgold triangle
The three are the equilateral triangle of The Real (Business)Women of Ringgold, population 4,344. Longtime Ringgold Mayor Joe Barger pushed for a downtown association in the 2000s and the trio took them up on the idea in 2008. Brooks opened her business in 2003 and Patty in 2007.
"The three of us have always had a bond," said Patty. "We care about each other and their business. It's just kind of always been that way as more women opened businesses here."
Next came Caffeine Addicts, a coffee shop whose only two owners have been women. Then came Kudzu Interiors, owned by Melodie Church. And then another and another. One by one, vacant storefronts were filled. At the heart of traffic in the downtown area are four antique stores, including Thornton's. They also include Ringgold Weed & Feed Antiques, owned by Gay Crane; The Vintage Gathering, owned by retired nurse Susan Taylor; and Trestle Side Antiques, owned by John LeMay, a man.
"I think having several antique stores in downtown makes us attractive to people," said Gay Crane, who co-owns Ringgold Feed and Seed Antiques with her husband, Mike. "I also think it's the whole collaboration that makes it work. More and more, people are looking to buy small and buy local. We have something that people will drive to and spend a day."
City seeks downtown investments
The City of Ringgold and its Downtown Development Authority have worked alongside of investors focused on downtown. Dan Wright, city manager of Ringgold since 1993, said Dr. Ronal D. Graham, McCracken Poston, Clifton Patty Jr., and Alice Evitt Bandy are among those who worked with the city to restore the historic parts of Ringgold. Bandy owns the Ringgold Telephone Company, which was founded in 1914, and she is among the women-owned business leaders in the RDP.
"It was mostly vacant storefronts when I got here," said Dan Wright, city manager of Ringgold since 1993. "But there were champions who bought the buildings and put blood, sweat and tears into making the buildings what they are today. They created a place for business that the women filled. They are hard workers and they care about Ringgold. They have sound reasons why they want to do things, and we want to support them."
McCracken Poston is an attorney who owns or co-owns two of the buildings on the Nashville Street blocks, including the building where Denni Thomas bought Caffeine Addicts in December 2018. Poston was born and raised around Ringgold, graduated from Catoosa County Schools and represented the area in the Georgia State Legislature from 1988-1996. He's had a front row seat watching the female-owned businesses open and the RDP operate.
"The women have done a remarkable job of building a business community," said Poston, whose firm is a member of the RDP. "They have already made a profound difference in helping create a vibrant downtown. I think downtown is in the best shape it has ever been in the history of Ringgold."
Kim Smith, who owns The Hair Company on Nashville Street, watched the evolution of downtown Ringgold and decided to get involved. Smith recently bought the old post office at the corner of Nashville, Tennessee and Lafayette streets. She will lease the renovated building to Courtney Cross, who is moving Southern Charm from the current location at Exit 348 to downtown Ringgold.
"We had been here six years and when I went downtown, I saw potential," said Smith. "I saw the potential and the empty buildings. I decided to take my retirement and invest it in these buildings down here, and I want to see it grow. I love what these ladies have gotten started here."
The men active in the RDP monthly meetings – there were four at the April 9 meeting - include Andrew Stone, who grew up in Ringgold. He remembers riding his bike into town and seeing the hardware store, an auto parts store, the bank and the courthouse. After a career in the private sector, Stone was looking for something to do in 2015. He took notice of downtown, worked with the city on a building just off Nashville Street from the Ringgold Depot and opened The Dapper Gentlemen, perhaps the only cigar bar in town with less than 5,000 people.
"It's a changed town now and the women are a large part of that," said Stone. "I have always gone to them for advice or to get a feel for something that was happening. The women are pretty cool, and that's what we want to do, attract more of the cool factor down here."
Ringgold, Georgia, cool?
"Oh yeah," said Thornton, "we're real cool."
Gay Crane is listed as the owner of Ringgold Feed and Seed Antiques on the RDP member list. Mike Crane is listed as the owner of 4 All Things Web. Mike's web business is 13 years old while the 5-year-old antique store is housed in building built in 1914 two blocks away from the Ringgold Depot and Nashville Street.
During the two-day Junk Market last weekend, the Crane's business had nearly 60 vendors inside and outside their store. Despite a weather forecast for rain that didn't appear, the vendors were busy. The Cranes borrowed $20,000 in 1914 and renovated the property. They say the company was in the black within its first nine months and the loan paid off within a year. The Cranes are both committed to future growth and the RDP, both of which they say will require help from the city and the Convention & Visitors Bureau.
Both Cranes recognize the marketing value of the women-driven business district, and Mike Crane said he thinks the government leaders should "turn some of the ideas we talk through into actions." Gay Crane has valued the support of other women owners as she stepped back into the private sector after staying home with her daughters.
"Joy Thornton is one of the main reasons I am here," said Gay. "I shopped with her and we became friends. She was very instrumental in helping us get started. It's a sharing community, and we all want every one of us to do well. At the end of the day, we are all in the same boat. We're all trying to make a dream come true, owning our own place and making a go of it."
The triangle of Thornton, Patty and Brooks don't worry much about the #MeToo movement or gender equality; instead, they all three own the belief that because they are women, the Real (Business)Women of Ringgold possess a collective desire to take care of one another that would be missing in a men-centric business association.
"There's just a bond that has developed from the beginning when there were just a few of us," said Thornton. "Women like to care for one another; it's just what we do. Owning a business doesn't change that. But there are a bunch of us now and we have a good time together."
Downtown offers supporting network
Yvonne Crowden, the owner of Nashville Street Shoes, understands. Born in Ringgold, Crowden moved back to Ringgold and opened the store with her daughter three years ago. It was her first business, and she invested more than $40,000 of her savings. In June 2018, her daughter married and moved to West Virginia. She replaced her with Annie, a 1-year old Dalmatian. Annie is one of four dogs who frequent shops on Nashville Street.
"All the women knew Brannon had left and that I was going through some personal issues," said Crowden. "These people are amazing and the best support group for me and my business."
Over the past decade, the RDP has initiated different community events to draw customers downtown and benefited from those animated by the city, such the popular 1890's Days Jamboree scheduled for last May. Some ideas had interesting outcomes. A decade ago, the RDP filled 25,000 plastic eggs with coupons, dollar bills and candy for an Easter egg drop on the football field to drive foot traffic to Nashville Street.
"Oh my, it was the best idea and worst idea we ever had," said Brooks. "There were about 7,000 people there with cars parked all over yards and everywhere. What went wrong was that the parents wanted the eggs before the children. If you looked it from the sky, it looked like a vacuum cleaner was just moving across the field, and the kids were just standing there crying."
Sara Clark is the only female on the Ringgold City Council. The former environmental lobbyist was appointed by former Georgia Gov. Zell Miller to the Board of Natural Resources and served for 14 years. She understands that Ringgold is a small, southern town where centuries of history directed power and influence toward men. The women-owned businesses in Ringgold say they have a good working relationship with the city but believe they deserve more support going forward.
"I am here (at the RDP meeting) because I made it a priority to say that if there is something this group needs, I will take it back to Council and be vocal about it," said Clark.