Photo Gallery
Chattanooga-made whiskey debuts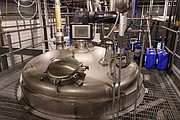 After two long years, the Chattanooga Whiskey Co. is ready to launch their new signature products, Chattanooga Whiskey 91 and Chattanooga Whiskey 111.
The latest Tennessee High Malt bourbons will replace the Chattanooga Whiskey 1816 Reserve and Cask as the distillery's flagship whiskeys. Not only is the new-and-improved recipe unique in its brewing and distilling processes, but it is among the first batches of whiskey to be made 100% in Chattanooga in more than 100 years.
It wasn't until 2013 that Hamilton County was legally permitted to distill spirits. Chattanooga Whiskey's 1816 series was actually being distilled in Lawrenceburg, Indiana until the "Whiskey Bill" was passed in Tennessee, allowing Hamilton County to produce their beverages here.
Wanting