Photo Gallery
'52 Hertz Whale'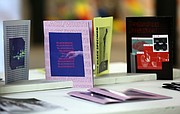 Why is it that human beings feel the need to explain or attach meaning to things they don't fully understand? Or, put another way, why can't a cigar be just a cigar?
That is the basic theme of the temporary "52 Hertz Whale" art exhibit that is currently housed in an old warehouse on 13th Street near the corner of Main Street and Holtzclaw Avenue. Sunday is the final day to see the pieces here before they travel to Knoxville for a showing.
It features almost two dozen works from artists from around the country and includes all types of media including digital, oil on canvas, mixed media, print and sculpture works. There is no charge to view the works.
It is presented by Stove Works, a multifaceted arts organization that combines an exhibition program, artist residency and education program. Stove Works has been operating without a home for the past few months, but that will change in about a year and a half.
If you go
› What: 52 Hertz Whale exhibit› When: Saturday, Aug. 10, 12-7 p.m.; Sunday, Aug. 11, 2-7 p.m.› Where: 1265 E. 13th St.
The "52 Hertz Whale" exhibit is located next door to the future home of Stove Works.
Executive Director Charlotte Caldwell bought the 55,000-square-foot building in 2017. About 20,000 square feet had to be demolished because of structural issues after purchase, but she is currently renovating the remainder to include space for Stove Works and rental spaces for other businesses. The space was at one time home to a coffin and casket company and later to Tennessee Stove and Manufacturing, a company founded by her great-great-great-grandfather J.L. Caldwell, and now called Modern Maid.
"My background is in art administration," Caldwell said. "I was originally thinking I might open a small, 15,000-square-foot art space, but this just felt like something I had to do," referring to the building's family history.
Participating artists
Bethany Springer, Brianna Rigg, Christine Rebhuhn, Christy Singleton, Hannah Walsh, Kayla Green, Mia Liana Garcia, Mika Agari, Sara-Anne Waggoner, Skye Gilkerson, SLINKO, Stephanie Loggans, Vabianna Santos
The exhibit is named after a lone blue whale that swims off the coast of California producing tones outside of the normal range made by other whales. Most whales communicate in the 10 to 39 hertz frequencies range. Scientists have called 52 hertz whale the loneliest whale and surmise that it is either injured or suffering in some way.
Others have suggested maybe it just wants to be alone or that it just wants to be what it is.
Mike Calway-Fagen curated the exhibit and said it is based on the idea of domination and how it gets passed down from person to person, generation to generation.
"Whether that is through narratives, books, movies, objects or any other way," he said.
Contact Barry Courter at bcourter@timesfreepress.com or 423-757-6354.