Photo Gallery
Digital divide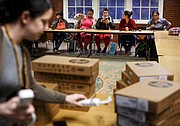 When Patricia Gadson learned she would need to get additional credentialing for her job as an early childhood worker at the Chambliss Center for Children, she said her initial reaction was one of frustration that quickly turned into worry.
Her concern was not because she didn't want to continue her education in her mid-60s or that she wasn't interested in learning more to help the children in her class. She became distressed when the center told her the credentials would be completed mostly online.
Gadson was being presented with an opportunity to further herself and her career but her computer skills were limited.
"When I found out I had to take an online class, I was scared to death and administrators saw the fear on my face," she explained.
Gadson is certainly not the only early childhood worker with limited computer experience. On Jan. 16, after all the Chambliss Center children had gone home for the day, Gadson and 20 other staff at the center began a six-week long Tech Goes Home course that will prepare them to eventually take another course through Chattanooga State Community College to earn their "Child Development Associate," or CDA, credential.
The state recently revised the standards for child care centers, and now, at least one educator in each classroom must have a current CDA credential if the center wants to maintain or receive a three-star quality rating, which is the highest rating in the state. Ten percent of the teaching staff must also have 30 hours of training through the Tennessee Early Childhood Training Alliance, or TECTA.
Out of the roughly 200 licensed child care providers in Hamilton County, about 85 have a three-star rating, according to the city.
"We are taking it one step further and saying everybody has to have a CDA," said Katie Harbison, vice president of Chambliss.
Tech Goes Home is a program of The Enterprise Center that trains parents, students, business owners and educators how to access information and resources online in order to narrow the digital divide. Program director Sammy Lowdermilk said it's the program's goal to reach more early childhood educators and students this year thanks to a grant from the Lyndhurst Foundation.
An eight-year outlook from the Tennessee Department of Labor and Workforce highlights an urgency to train and prepare early childhood educators in the state.
The report estimates from 2014-2022 states there will be a 67 percent increase in demand for child care workers and preschool teachers, or roughly 2,300 new openings a year in Tennessee alone.
While professionals across industries struggle to understand how automation might affect future jobs, it's less likely that technological advancements will soon - or ever - be able to duplicate the guidance, inspiration and instruction that a teacher can give, and it's a profession that will continue to be in high demand.
Harbison said many of their educators already have CDA and TECTA credentials, but about 45 teachers who don't will be paid to complete the credentials over the next year. The city of Chattanooga and area attractions such as the Tennessee Aquarium and Creative Discovery Museum have also made their own, separate initiatives to promote further development of early childhood educators in the Chattanooga region.
What state and local officials and administrators might not have been prepared for was an industry where many of the employees are either lower income or older and don't have their own personal computers or have had minimal experience with one.
Chambliss, a nonprofit, cares for 650 children every day to low-income, at-risk children starting at just 6 weeks old and among their various locations. The staff gathered at Chambliss' main building near the intersection of Germantown and Brainerd roads in January to learn everything from how to upload documents online to how to make presentations in PowerPoint and properly format a paper.
Ranging in age from 20 to 83 years old, the workers spent the first night of the class unpacking their Chromebooks, connecting to the wireless internet and setting up their own Gmail accounts if they didn't already have one.
With most entry-level preschool teachers earning just $17,115 a year in 2015, the state's Department of Education says the CDA credential is valued and often translates into job opportunities above entry level. To be an early educator at Chambliss, applicants only need to have a high school diploma and experience with children, Harbison said.
"There has been such a shortage of people going into that field that we really need something to show the rest of the world this is a great profession, there are professional certifications and ways to advance yourself," she said. "This is a legitimate career that people can do the rest of their life."
The six goals of the CDA competency standards are to establish and maintain a safe and healthy learning environment, to advance physical and intellectual competence, to support social and emotional development and positive guidance, to establish positive and productive relationships with families, to ensure a well-run, "purposeful" program and to maintain a commitment to professionalism.
The "2018 Early Childhood Workforce Index" reports that early educators are in economic distress and that reality falls disproportionately on women of color, who make up about 40 percent of the workforce, and those who work with the youngest children. All of the Chambliss educators in the Tech Goes Home program are women and either black or Hispanic.
The report measures each state's early childhood policies based on five categories - compensation and financial relief strategies, workforce data collection and analysis, work environment standards, financial resources and investment in programs and educators and qualifications/educational supports.
Tennessee is lagging behind many states, according to the report.
The state has made "limited or no progress" when it comes to improvements to compensation for early educators, compiling adequate data about the workforce and providing a better workplace environment. Although, Tennessee has made "partial progress" when it comes to allocating more financial resources to programs and improving qualifications for early educators.
Making sure all educators, especially those who are ethnically diverse and might speak English as a second language, get opportunities to aquire more education and training is important, it states.
"We have a lot of long-term staff, but I think they haven't had the formal education side of it," Harbison said. "It's a boost to their confidence and knowledge. It will really inspire them to keep thinking of fun things to do in the classroom."
Gadson turned 64 years old the day of the first training. Most people wouldn't be happy about that fact, but Gadson had a new, free computer to claim.
"I did not hesitate when they said this class was on Jan. 16," she said. "This is my birthday present."
At 83 years old, Margaret Evans is starting from scratch, calling herself "completely computer illiterate." She's worked at Chambliss for 16 years and cares for 2 year olds. Many of the younger and middle-aged educators said they knew how to play games or text family members on their phones but hadn't used many of the computer programs since they graduated high school.
"It's just as much for them as it is for the kids," Harbison said. "When they get a certificate and have more confidence in what they are doing then I think it's better for us, the children and them."
Contact staff writer Allison Shirk Collins at ashirk@timesfreepress.com, @AllisonSCollins or 423-757-6651.