Photo Gallery
Cleveland vs. East Hamilton basketball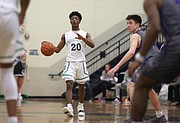 With a stroke from deep the "Splash Brothers" of Golden State might even rave about, the Cleveland Blue Raiders sophomore guard who hit five 3-pointers in one quarter this season knows not to sit back and watch his shot.
Realizing his left-corner trey was off, Grant Hurst crashed the baseline and found himself in prime position for a game-winning theft after Kley McGowan's putback attempt fell into an opponent's hands.
Hurst's steal and score under his own basket at the final buzzer sent a mob his way as Cleveland secured a third straight District 5-AAA tournament championship Tuesday night with a 56-54 overtime win over East Hamilton at Soddy-Daisy.
Although the Blue Raiders shot just 5-of-23 on 3s, the game-winning moment was surreal for the district tournament MVP and his squad that has won 17 straight games.
"We always talk about the pain of discipline or pain of regret," said Hurst, who finished with 14 points and a pair of 3s. "During my freshman year I didn't play a lot, but every day in practice I competed my butt off, especially on defense. It came up clutch tonight in the best way possible."
The Blue Raiders (25-4) responded to the Hurricanes (20-8), who opened with a powerful punch in the team's third consecutive district final to lead 23-7 four minutes before halftime.
Cleveland senior guard Isaiah Johnson hauled in a free-throw miss with six seconds left in regulation and streaked down the court for a tough running layup at the fourth-quarter buzzer to force an extra four minutes with the score tied at 49.
While leading scorer JaCobi Wood (21 points) fouled out with 1:58 left in overtime for the Blue Raiders, Johnson responded seconds later with a deep trey from several feet beyond the top of the key to tie the game at 54.
After Hurst sneaked in to unleash pandemonium, a championship was celebrated but not without turning attention to the next step.
"This is a resilient bunch who found a way to battle back against a very tough and well-coached East Hamilton team," Cleveland coach Jason McCowan said. "The last two years we have won the district, but they won the region finals. Our goal is to make it there and keep our season rolling as lot as possible. We can't dig a hole like we did tonight early again."
East Hamilton senior Jamaal Walker scored 19 points and used his great length to get to the rim. Morrell Schramm drew three charges and finished with 11 points and 11 rebounds, while senior Cameron Montgomery scored 14 points.
"This game had the same feeling as the 2016-17 season," Montgomery said. "We played in the same gym and lost in the finals to them. We went on to win four straight and make it to the state tournament. Me and my teammates are hungry."
Cleveland will host Rhea County (9-21) in a must-win first round of the Region 3-AAA tournament, while East Hamilton will welcome Cookeville (23-9). Both games will start at 7 p.m. Saturday.
Bradley Central beat McMinn County 72-45 in the third-place game. Both will be on the road Saturday.
Contact Patrick MacCoon at pmaccoon@timesfreepress.com.