Photo Gallery
Skateboard art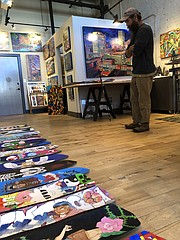 If you go
› What: 2018 Skate Graphics Contest winners.› When: Through Friday, Feb. 22. Open 11 a.m.-6 p.m. Monday-Friday, noon-5 p.m Saturday.› Where: AVA Gallery, 30 Frazier Ave.› Phone: 423-265-4282.› Website: www.avarts.org.
The art for the latest installment at the Association for Visual Arts arrived on an unusual canvas: the deck of a skateboard.
Measuring 10 by 30 inches, the wheelless decks have been transformed into graphic designs by middle and high school students in support of the Chattanooga Skatepark Project, a nonprofit group working to build a new, modern skate park to replace the existing ChattTown Skate Park, which is showing its age.
"This is the first year we've partnered with AVA," says local artist Brent Sanders, the contest's organizer and a board member and director of the Chattanooga Skatepark Project.