Photo Gallery
Log home living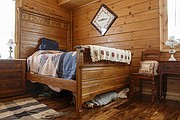 Whenever Jane and Bernie Flank's daughter visits their log home getaway near Fall Creek Falls, she jokingly tells her parents they're living "the 'Walden' experience."
But today's log homes are nothing like the modest, one-room cabin Henry David Thoreau famously secluded himself in back in 1845.
More Info
Log home sales in Chattanooga area by year2018 — 1102017 — 1012016 — 972015 — 80Source: Todd Henon Properties
The Chattanooga area has seen a steady increase in log home sales over the last few years as more homebuyers realize just how promising the Walden experience can be for themselves.
The upward trend began five years ago, as the market began to recover from the 2008 housing crisis, says local Realtor Todd Henon, of Todd Henon Properties. Though the log cabin niche of the housing market took longer to recover than traditional homes, the passion for log home living never dwindled.
"These buyers have oftentimes longed, searched and hoped for years to turn their dream into a reality," says Henon. " For some families, log homes are a 'bucket list' property, and being able to purchase that log home is a benefit in and of itself."
Now, with an air of optimism surrounding the market, those dreamers have come out of the woodwork to invest in the properties that long served as the backdrop of their fantasies, causing the number of log home sales in Chattanooga to rise from 80 in 2015 to 110 in 2018.
Still, log home living isn't really about facts and figures. For Jane Flank, living in a log home is desirable because it provides a link to her ancestors.
Through her genealogical research, she's learned that one of her distant ancestors was the sister of Daniel Boone, the American pioneer made famous by his settlement of what is now the state of Kentucky, and many of the family's descendants lived in log cabins, she explains.
"It feels like a connection to where we came from," Jane says as she flips through a photo album filled with weathered pictures of her great-great-grandmother standing in front of the log cabins she called home. "It's comfortable. It's familiar."
But Jane's desire to connect with her history began long before the construction of her cabin. In fact, it was her home furnishings that helped inspire her dream home in the first place.
DESIGNING THE DREAM
In the corner of the Flanks' cabin-esque home is a cherry hutch lined with decorative china.
Though merely a quaint detail for some, the ornate cabinent holds an immense amount of sentiment for Jane, as it was crafted by her grandfather, who taught her all she knows about woodwork.
Before he passed away, Jane's grandfather asked if she had any interest in the hutch, which he had originally made as a gift for her late grandmother. Her answer was an emphatic "yes!"
"If I have to, I will design a house around it," she told him.
Last year, she kept that promise when she and her husband began to build their 1,900-square-foot log home.
"Everything started from that corner of the house," Jane says, though the hutch wasn't the only piece of furniture that influenced the home's blueprint. "A lot of what I did with the house was designed around my existing pieces of furniture I knew we were going to move from Atlanta, to make sure that it all fit and we had the space that we wanted."
Though Jane's story is unique, the ability to make such modifications is not. Customizability is one of the most enticing characteristics of log homes, Henon says.
"Timber frame and dimensional lumber [are] almost unlimited in the layout options they offer, like the placement of doors, windows, rooms and rooflines," the Realtor explains. "Their look and feel is customizable to an extent that is unmatched by conventional construction."
That freedom is evident in every square inch of the Flanks' home.
Though the couple had the option to choose from a whole catalog of templated designs when they first began sketching out their dream home, Jane chose to sketch out her own unique floorplan, creating a home that would highlight her and her husband's personalities.
Using three of the templates for inspiration, Jane crafted the 'mullet' of home designs - resembling a lodge resort in the front and a farmhouse in the back.
Upon entering the left side of the home, the primary purveyor of the lodge-feel is the wood structure's high, vaulted ceilings lined with exposed beams. Towering about 20 feet over the home's modest dining area as well as its cozy living room, the elevated roof makes the compact space feel intimate without feeling cramped.
From the living room, made snug by its plush armchairs for him and her as well as its rocking chairs, the lodge resemblance continues thanks to the intricate, handcarved railing lining the ascending staircase. Crafted from wood chopped from the backyard, the banister is especially meaningful to Jane, a former theater carpenter, who fashioned the wavy handrail herself.
The railing leads up to a loft suspended above the kitchen, where guests can relax on one of the sofas right under the sloped wooden ceiling, or lean on the glossy banister as they admire the living room below and the view from beyond the massive, triangular double-paned windows that flood natural light into the cozy dwelling.
"It's sort of like walking into a lodge. I live in a lodge," Jane says, admiring her airy home. "There's just something really mesmerizing about walking in."
And that's the beauty of log cabin living - each home tells its own unique story.
"I think that's the indefinable part that I'm not sure you can quantify or really explain," Bernie chimes in from his armchair. "There's just something about a log home that feels good."