Photo Gallery
Log home living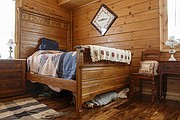 Whenever Jane and Bernie Flank's daughter visits their log home getaway near Fall Creek Falls, she jokingly tells her parents they're living "the 'Walden' experience."
But today's log homes are nothing like the modest, one-room cabin Henry David Thoreau famously secluded himself in back in 1845.
More Info
Log home sales in Chattanooga area by year2018 — 1102017 — 1012016 — 972015 — 80Source: Todd Henon Properties
The Chattanooga area has seen a steady increase in log home sales over the last few years as more homebuyers realize just how promising the Walden experience can be for themselves.
The upward trend began five years ago, as the market began to recover from the 2008 housing crisis, says local Realtor Todd Henon, of Todd Henon Properties.