Photo Gallery
Advanced robotics training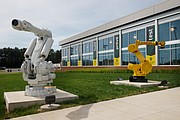 A blue industrial robot sitting on top of a table and encompassed by a glass case picked up white and blue blocks, divided them by color and stacked them into small towers in a room of a building at Motlow State Community College's campus in McMinnville, Tennessee.
In the room next to it, another robot sorted imaginary pills into a pill container and a robot across from it practiced picking up a pencil and turning it sideways like it was about to sharpen it.
The robots are just three of the 20 at Motlow State's new $5.5 million Automation and Robotics Training Center, or ARTC.
Located 75 miles southeast of Nashville and 75 miles northwest of Chattanooga, the small city of just under 14,000 people is leading the way in advanced robotics training in both the region and the country, school officials say.