Photo Gallery
Advanced robotics training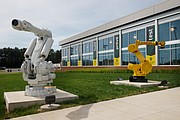 A blue industrial robot sitting on top of a table and encompassed by a glass case picked up white and blue blocks, divided them by color and stacked them into small towers in a room of a building at Motlow State Community College's campus in McMinnville, Tennessee.
In the room next to it, another robot sorted imaginary pills into a pill container and a robot across from it practiced picking up a pencil and turning it sideways like it was about to sharpen it.
The robots are just three of the 20 at Motlow State's new $5.5 million Automation and Robotics Training Center, or ARTC.
Located 75 miles southeast of Nashville and 75 miles northwest of Chattanooga, the small city of just under 14,000 people is leading the way in advanced robotics training in both the region and the country, school officials say. The goal of it is to not just provide accredited courses in robotics to Motlow students but to also train industry employees and provide Chattanooga-area manufacturers with a ready and willing workforce.
But why McMinnville?
"We had the vision," said Larry Flatt, executive director of the new center. "The vision started with industry, was embraced by education, was supported by government and we brought it to fruition because everybody did what they had to do."
The 12,000-square-foot building was built on 4.5 acres of donated land from the Warren County Commission and was constructed in less than a year. Sitting adjacent to Motlow State and Tennessee College of Applied Technology's McMinnville campus, grant funding for the ARTC came from the "Drive to 55 Capacity Fund" that former Gov. Bill Haslam launched to increase the number of Tennesseans with a post-secondary degree or certificate to 55 percent by 2025.
Visitors to the center are greeted by three robots that stand at roughly 8-feet tall and represent the three industrial robot manufacturers that partner with Motlow to provide industry training and certifications - Yaskawa Motoman, ABB and FANUC.
The fastest growth in industrial robots is coming in the South where a rising share of U.S. auto production is occurring as foreign-based auto makers such as Nissan, Toyota, Volkswagen, Mercedes-Benz and BMW have located assembly plants across the region.
Chattanooga had 2.8 robots per thousand workers in 2015, according to a Brookings Institute analysis of data compiled by Global Robotics Production Association.
Terry Durham, vice president of workforce innovation at Motlow, said the region needs to be good at robotics, "across the board," to keep that growth here and attract more.
"By being an early adopter of this technology from an educational standpoint, we have boots on the ground and a location, we have capacity to grow," she said. "We are delighted to be fairly early. You could look out across the nation and count on one hand the number of colleges that have done this already."
Motlow is not unique in offering accredited courses in mechatronic and robotics to its students - thousands of colleges across the country already do that - but it does stand out in the sense that it is a satellite location to further train industry employees who work at some of the largest robot manufacturers in the country.
Todd Herzog, who is board chair of the local Business Roundtable Action Committee (BRAC), said that $11 million has been invested in Warren County in advanced skills training, greater than any other county in Tennessee. BRAC is a committee-program that allows businesses and leaders from around the county to come together and resolve problems and create solutions, according to Warren County's website.
While the new robotics center is just the newest addition to the city and county, Herzog said there are over 3,500 robots in use in the nearby Warren County area, which includes McMinnville, Manchester, Shelbyville and Decherd.
Herzog said the move to bring more advanced robotics training to the city goes back to 2005 when a coalition led by BRAC put a focus on improving higher education in the area. He said over 100 students study mechatronics in McMinnville between Motlow and Warren County High School.
"The same coalition began monthly meetings in late 2014 at a local plant (Yorozu) researching the need and plan for advanced robotics training," Herzog said in an email. "This coalition would not accept failure in this mission although our first two grant applications were not successful. Industry led the effort to have our new Robotics Center."
In the first industry training class at the center, over 50 percent of the class was from outside of the region, including two students from California and Texas. For 28-year-old Austin Nelson, who works as an applications engineer at Marietta NDT in Georgia, he said he could either complete ABB robotics training in McMinnville or Detroit and he liked the closer option.
At Motlow's open house in May, officials with Volkswagen's Chattanooga plant met with Flatt and Durham. A company spokesperson would not say whether or not they hope to recruit and/or train employees at the new robotics training center.
Earlier this year, Volkswagen announced plans to add 1,000 jobs and a second facility in Chattanooga.
The Nissan plant in Decherd, Tennessee - about an hour west of Chattanooga and hour southwest of McMinnville - is one area employer that will benefit from the new center, though. Company officials served in an advisory capacity to Motlow before the opening of the new robotics and automation center.
"Training facilities like these are important to help upskill our current workforce and train the workforce of tomorrow as more automation is integrated into the manufacturing process," Nissan said in an email.
Nissan Decherd uses many of the same types of robotic systems utilized by the new Motlow training center in their operations, they state.
"Nissan Decherd has a large number of maintenance and manufacturing technicians, as well as maintenance technologists, who require a high level of proficiency in robotics handling, maintenance and programming," the company said in its statement. "The training provided by facilities such as the Motlow Robotics center help to prepare our team to utilize and maintain increasing applications of automation."
For Flatt, the new center means improving the quality of life for those in McMinnville and the region. It helps the economy, the school and area employers and employees.
"It's every opportunity to make yourself a better employee, which leads to higher wages and a better life," he said.
Contact staff writer Allison Shirk Collins at ashirk@timesfreepress.com, @AllisonSCollins or 423-757-6651.