Photo Gallery
Furman 35, UTC 20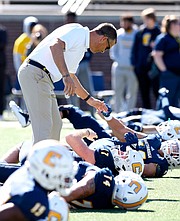 Poor starts have plagued the University of Tennessee at Chattanooga football team most of the season. Saturday, in the biggest game of the year for the Mocs, the first quarter and a half against Furman couldn't have been scripted any better.
However, despite taking a 9-0 lead, creating two turnovers and causing Paladins coach Clay Hendrix to bench his starting quarterback, the Mocs' Southern Conference title hopes faded with a 35-20 loss at Finley Stadium.
The latest defeat for the Mocs (4-5, 3-2), coupled with last weekend's overtime setback at Wofford, puts them two games back in the league title race with three games to play. Wofford (5-3, 4-1) hosts Furman (6-3, 5-1) on Nov.